NEW TRIUMVERATE
ON THE BLOCK!

---
Mailbag! Dear Biz: Can lawyers and accountants come to the Bisnow Happy Hour? You bet, as long as their focus is commercial real estate. Lawyers are people, too! When? 530-800 PM, Thurs, Sept 6. Location? Akridge's Carroll Square, 975 F Street. Co-Hosts: SmithGroup, Turner Construction, and WorkSpaces, LLC. Free of charge! RSVP!
---
Everyone knows Diane Hoskins is one of DC's most powerful figures in commercial real estate—part of a three-person team that heads all of Gensler, the world's largest architectural firm (3000 employees, 28 cities). That experience has worked so well, she's blessed a new 3-person management team for the local office. On Sepember 1, Jeff Barber and Jordan Goldstein, below, will join Bill Hooper in co-leading DC. For the last two years, since Diane was promoted, Bill has been co-leader with Ken Baker, who will run London.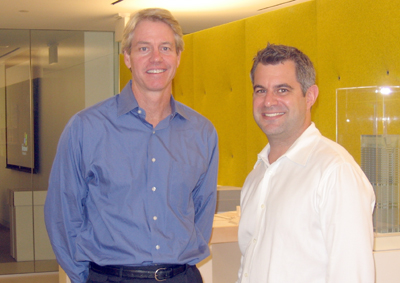 Jeff and Jordan, architects from Atlanta and Bethesda respectively, joined Gensler at the same time 11 years ago, and got the news from Diane three weeks ago. When they joined, the office had 60 people, now it's 250. How will they divide responsibilities? They plan to observe for the next 3-4 months, then decide. When we reached Jordan this morning, he was on Amtrak to Manhattan to photograph a 25k SF headquarters Gensler did for Town Sports, parent of Washington Sports Clubs, who he's been working with in this region for several years. For example, he helped design 36k SF on two floors at Bradley and Wisconsin (construction by Forrester) that's about to open its doors. Jordan's also working with Monument and Forest City to design retail streetscape and buildings for Half Street and The Yards. Disgusting fact: Jordan's just 35. (We didn't reach the others for official age verification, so we'll just assume Bill and Jeff are in their 20's.)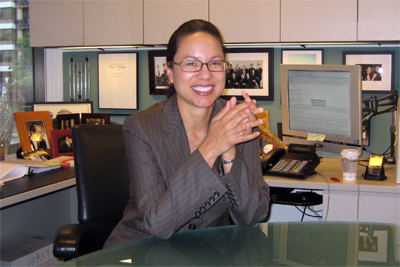 Of course, Diane, here in her office this week, is obviously the youngest of all. Why is she smiling? 2006 was Gensler's best year ever.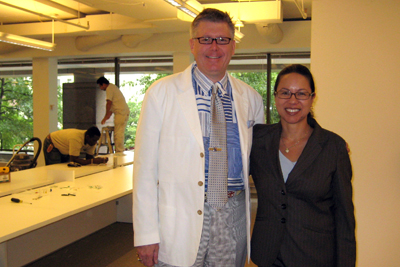 Diane, with Ken Baker, gave us a tour of the DC office remodeling being done by Rand Construction. You might have to squint to see, but Ken is wearing a belt with a Union Jack. He's spent a fair bit of time in London already for clients like Sidley & Austin. Forget the belt, what's that shirt all about?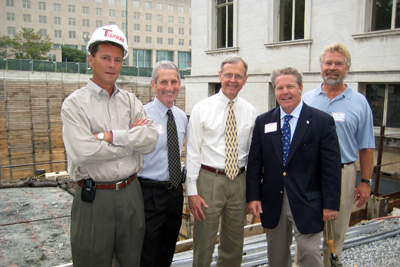 Yesterday we headed over to The American Pharmacist Association Headquarters at 23rd and Constitution to join general contractor Jeff Dodd of Tishman Construction, Goldin & Stafford's Ralph Goldin, JBG project managers Dan McKim and John Kraus, and Goldin & Stafford's Tim Stafford for the site's "last blast" and some O'Brien's BBQ. Since the project required the removal of over 40,000 cubic yards of earth and 40,000 CY of solid schist rock, the site had to be detonated. Michael Farah, president of Air Power, tells us there have been scores of (very controlled) explosions – almost one per day since they started in May. Because you can't just drive a truckload of dynamite into the city, the DC Bomb Squad has also been there.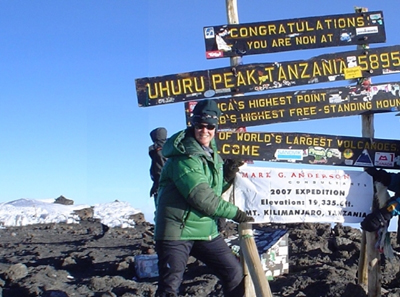 While we were lying by the pool drinking fruity drinks, Kathleen McGuinness of Mark G. Anderson Consultants (project management for ventures like Salamander Resort and Madame Tussauds) climbed Mt. Kilimanjaro. Although Kathleen was stricken with High Altitude Pulmonary Edema, she managed to make it to 19,300 ft where she unfurled her company banner before she visited the local hospital. How's that for marketing bravery?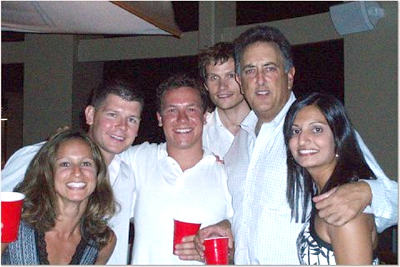 Buddies and classmates in the Johns Hopkins Masters in Real Estate program BBQed on the rooftop of 2400 M Street Apartments in Georgetown. Cushman's Kassi Saridakis, WRIT's Chris Getz, Cushman's Dave Dochter, Holland + Knight's Shannon Sentman, Bristol Capital Corp's Dave Sislen, and Madison Marquette's Kinney Ardeshna got a chance to chill out with mango martinis and white peach sangria.