MONDAY ROUND UP

---
Start the countdown! Thursday, September 13, 6-8 PM, you're all invited (especially if you feel young and hip) to Bisnow's first Real Estate Happy Hour. Downtown at a TBA glam place, free admission with discount cash bar. Presented by our wonderful friends at SmithGroup, Turner Construction, and WorkSpaces, LLC. Click here to RSVP.
---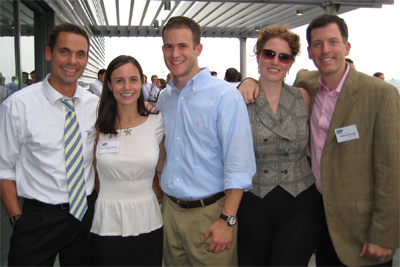 It was so hot last Wednesday on the rooftop deck of 1101 New York Avenue, these friends should have been fanning each other, not hugging in coats and ties! But that's what "REEL" (DC/MD NAIOP's "Real Estate Emerging Leaders") is all about: networking heat! Actually, the steering committee members above look kinda' cool: Skanska's Brennan McReynolds, Interior Architects' Mary Catherine Williams, PNC's Ben Adams, Mancini Duffy's Olivia Millar, and Bank of America's Ed Burnett.
Balfour Beatty (formerly Centex Construction) acted as host. The LEED certified building that they did last fall for Louis Dreyfus includes an all glass skin with no perimeter columns – instead, the slabs cantilever. Can you tell that our own Stacey Pfarr was tutored in Architecture 101 as she sipped pinot grigio? Above, Mark Hendrickson, Ashley McCarron, Lilly Chuecos, Alison Carney, Bill McIntosh, and Alex Palacios.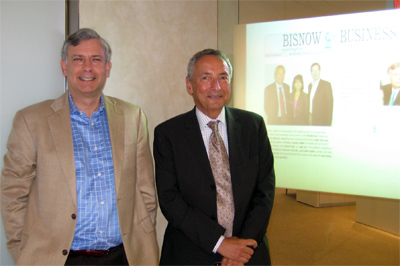 While the rest of Washington slumbers on the beach, count on the lawyers to keep working. Richard Nettler and Bob Falb of Arent Fox, standing in their lobby, are at work on the National Children's Museum to be built at National Harbor. Bob, who has represented National Harbor owner Milt Peterson for 20 years, proposed last August that they offer land to the museum for $10. Despite a valiant effort by Mayor Fenty to keep the museum in the city (he said he'd give land from the SW waterfront), the NCM ultimately opted for the Prince Georges site.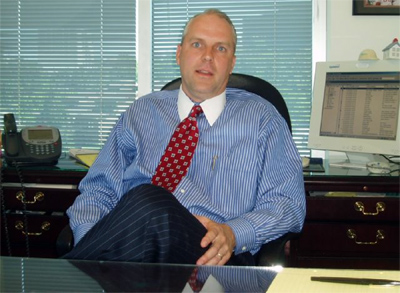 Still another lawyer, Watt Tieder's Jack Lavoie, has had a busy summer. The world's biggest construction litigation law firm has 90 attorneys devoted to that specialty, but 10 others in a commercial real estate group which Jack heads. They've been working on acquiring land for Opus East near the new ballpark; leasing transactions for TA Associates Realty in the Tysons/Restor corridor; and big leasing assignments for Orbital Sciences at Dulles and energy firm Gridpoint in Arlington. Jack was also recently admitted to the West Virginia bar so he can help developers who keep moving west. Before the end of the summer, Jack and his family will make their annual trek to New Jersey's Seaside Park where he says he usually runs into a bunch of Staubach friends.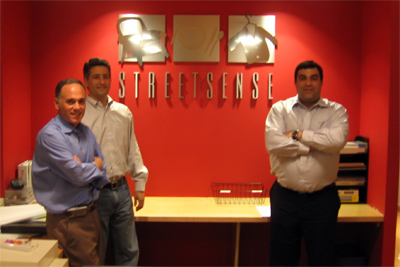 What do "retail master planners" do? They figure out how to design areas of stores so people want to walk in! Now we understand the name "StreetSense" that Marc Ratner, Guy Silverman, and Jon Eisen, above in their Bethesda office, decided on six years ago when they banded together. Jon and Marc are cousins (they even lived in the same apartment building as kids), and Marc and Guy have been best friends since junior high. Now they are up to 50 people, and have worked on National Harbor, Bethesda Row, Park Potomac, National Gateway, and Moorefield Station (intersection of 50 and 28 near Dulles) – and soon the new East Campus of the U of Md. Twice a year they go away for "macro-planning." One trip to Key West was nice in theory, but the mango margaritas left them unproductive.

The office got pretty excited earlier this year when Street Sense, the horse, won the Kentucky Derby. What a letdown when they realized they had no connection to it and would not be winning any of its money.

TIME FOR AN AUGUST BREAK.
ENJOY THE WEEK.
WE'LL BE BACK NEXT MONDAY!