MARINE AT WORK

---
Sponsor Update: Pillsbury's John Epting, who steers complicated projects through DC zoning and has handled more TDRs than anyone else around, has had a busy summer: Lowe's $200M CityVista development and Hilton Washington deal. John: Great excuse to stay cool indoors!
---
Time flies: Seven months after the acquisition of Trammell, we stopped by to get the latest from CBRE's regional head John Germano. Using the lyrics of Mary J. Blige (knowingly?), he said: "No more drama." He tells us everyone's settling in, and the DC office has kept more Trammell employees than any other region. He says the deal helped CB boost its tenant representation and project management, and that post-merger they are No. 1 in almost every service line and sub-market they compete in.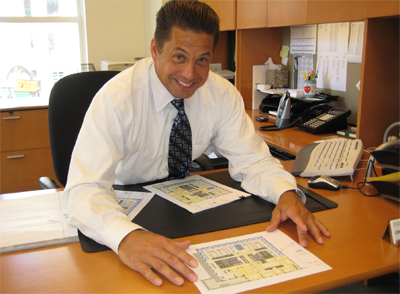 But they will be changing offices, and guess who's Floor Plan Tsar? Right now, brokers are at 555 11th St. and property and project managers are on Thomas Jefferson in Georgetown. By December 20, everyone will be consolidated in a new office at 750 9th St.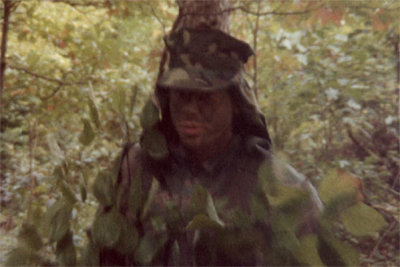 He looked pretty dressed up in that last picture, but how about here? Well, he dressed up here, too, but only in camis, leaves, and face paint—back in his days as a Marine in Southern California. Semper Fi! Or is John Germano, gulp, really Bigfoot?
We're glad someone in the background is doing real work as John poses for our endless pictures. John started at Jones Lang in LA in 1989 as a landlord broker and then went into management: He eventually ran the New England region, then the DC region, then the same with Insignia/ESG before its merger with CB in 2003. Although he loves the brokerage world, he says he likes where he is now—no Brian McVay plans, evidently. As regional manager here (even including Baltimore), he leads 1000 employees, including 150 brokers, 200 in corporate services (such as onsite for Exxon Mobil and the American Red Cross), and the balance in office support and property management.
What's new and exciting? CB has been named exclusive leasing agent for several tony projects:
Despite these big deals, John says that CB's bread and butter comes from deals under 15,000 SF.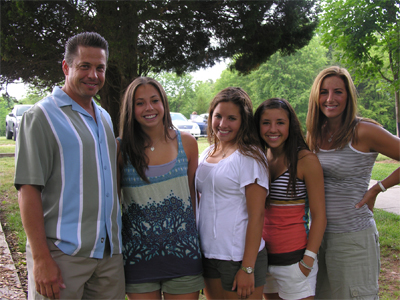 A New England native, John's favorite teams, of course, are the Red Sox and Patriots. But he roots most for his own "home team": his three daughters, Krista, Erica and Niki, and wife, Laurie, shown here at CBRE's picnic at Smokey Glen Farm earlier this summer. The outfit just got back from Punta Cana in the Dominican Republic, where, being the nice young man he is, John hosted his mom and dad, who were celebrating a big anniversary. For the first time, he says, he totally "unplugged" during the trip: no email, no BlackBerry, no phone. Fifty years after his parents took the plunge, he and his girls donned scuba gear and went diving.