MARBLEBREAKING?!

---
Big shout-out to sponsor ProLogis, which under the local leadership of Mark Levy is going great guns in the industrial market of Northern Virginia and Prince George's County (and points North). Recent deals include purchase of 62 acres in Manassas to build an $80M 800k SF Class A Industrial Park.
---
We braved the heat Wednesday morning to see this strange ritual ourselves. But sure enough, that's what they did for that behemoth old DoT headquarters in SW that they're gutting and are about to transform into a spanking new "Constitution Center." Technically, it's the 1967 modernist-era Nassif Building, the largest privately owned office building in the city—1.5M SF!—and after the extreme makeover, it will be re-delivered in 29 months as Class A LEED-Certified.
"I've been working on the Nassif, all the live long day! I've been working at the Nassif, just to pass the time away, hey!" Since there was no unpaved dirt and all the building's skin is being removed, marble instead of ground was symbolically broken in a tremendous display of raw middle-aged masculine power.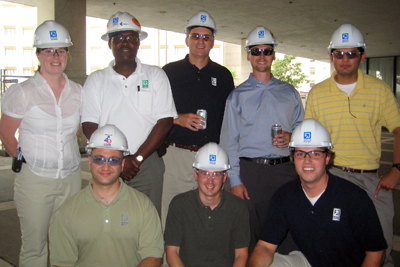 Goggle-Eyed! Bisnow's new ace About Town Editor Stacey Pfarr got all these fine Davis Construction folks to smile even as they were sweltering! Back row: Meghan Ulrich, Kwasi "Safety Guru" Koranteng, T.J. Sterba, Frank Lefler, Nestor Santos. Front row: Ihsan Gin, Brad Cordek, James Pacalla. Davis says they'll save much of the building's materials by recycling over 5000 tons of marble, glass, and concrete.

SmithGroup is the architect and doing lots of fancy things like replacing the dull old HVAC system with something called a cutting-edge "chilled beam." Brrr, it sounds cold just thinking about it. From left: Sally Lee, Kwok Ong, Cindy Camp, Bob Fagg, Amy Boyce, main man architect David Varner, Elaine Gray, Melissa Brown, David King, Il Kim, and Bob Anderson. David King (who runs the whole firm) told us that the building will be Level IV security like the Pentagon, which means blast resistance, progressive collapse safeguarding, and air supply protection. Wow, sign of the times. Cassidy & Pinkard is doing the leasing, most likely to a government agency.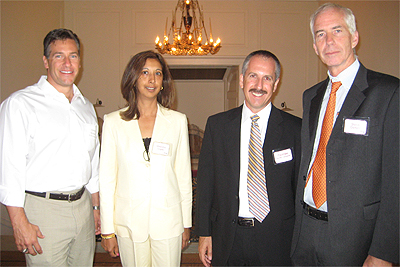 "Professional Women in Construction"! And Men! Yesterday we popped into the Washington Club on DuPont Circle to see PWC's open panel discussion on ballpark projects like the NEW DoT building and the Capitol Riverfront improvement. PWC celebrates its first anniversary in September and is already 100 plus members. Doesn't seem quite appropriate that we got so many men in this picture, but anyhoo, Clark Construction Consulting's Vinesha Clark is chivalrously flanked by JBG's Andrew McIntyre and Paul Elias, and Tishman's Steven Dalton.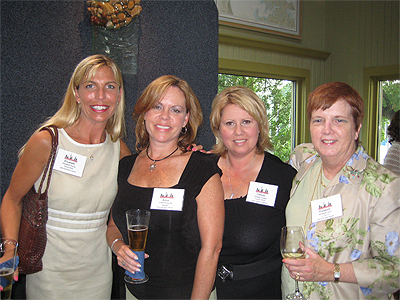 And last night we went off to Indigo Landing near National Airport to see the ladies of CREW! DC, Maryland, and Virginia chapters got together for happies hosted by Kimball Office and CHL Business Interiors. From left, Kimball's Elizabeth Hurley, BeeryRio's Anne Richards, Preferred Offices' Christy Cooper, and Betsy Dally.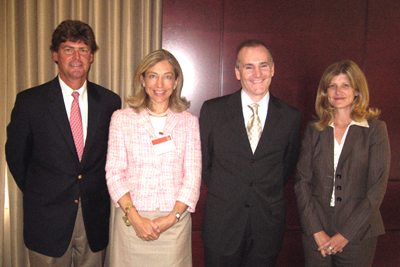 And now, to make you all smart: Transferable Development Rights have become a hot real estate strategy as the supply of development opportunities in DC continues to shrink. A distinguished panel took up the topic Wednesday at Pillsbury Winthrop. From left, Davis's Dennis Cotter, Pillsbury's Allison Prince, Fox Architects' J.P. Spickler, and Jones Lang's Holly Davis.