JUST A LITTLE SUMMER ROUND-UP
---
Sponsor Update: Balfour Beatty, formerly known as Centex Construction, was just awarded two prestigious design-build contracts under the BRAC program: a "logistics university" at Ft. Lee, Va., and a multiple task order for the Norfolk District of the Corps of Engineers.
---
Over lunch this Friday, the Big M's will be meeting for the very first time: PNC regional president Mike Harreld and Vornado/Charles E. Smith head Mitchell Schear. "Their people" have spent a ton of time together already, because the two companies just announced a joint venture to tear down the old Riggs buildings at 800 and 808 17th starting next February, and put up 350k SF of new office by spring of 2010 to serve the same function as PNC's regional headquarters.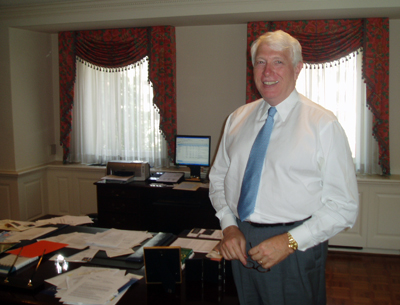 Above in his office this week, Mike told us they've watched the building across the street (Louis Dreyfus' 801 17th) being "deconstructed" and found it fascinating how calmly it came down, never pre-empting more than a lane of traffic. In November, PNC will move its 190 employees a block away to 800 Connecticut Ave., and figures it will move back three years from now with 250, leaving space for other tenants and retail. It thought about moving to Maryland or Virginia for about a minute; from the time Mike arrived 18 months ago, he felt the space PNC inherited here was "tired" and "ill-suited" to modern banking but needed to remain downtown. The new 12-story showcase, designed by Gensler to LEED Gold specs, will have one more thing the current building lacks: a garage.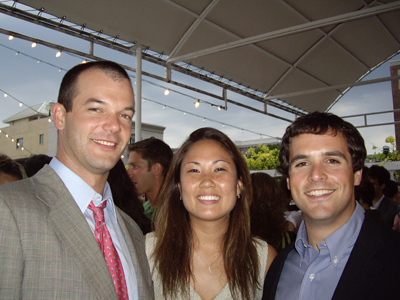 Cambridge Property Group and Fox Architects co-hosted a few dozen young area brokers last week from CBRE, Staubach and Jones Lang for a happy hour on Perry's rooftop in Adams Morgan. Above, from left, CB's Will Carroll, Fox's Olivia Thomas and Cambridge's Matt Wallerstein. Cambridge is busy leasing two downtown office properties on behalf of UBS Global Asset Management: 901 E Street and 1101 Vermont.
Just in case you think all that hard working lawyers do is bill hours, here are two pillars of the Holland & Knight real estate practice—Whayne Quin, left, and Chip Glasgow—lunching with us the other day at Kinkead's. Well, at least we don't think we're going to be billed. As for us, we were hard at work taking notes for stories we plan this summer on top lawyers.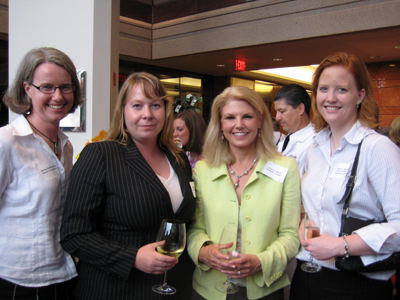 Betty Boop, Brooke Shields, and Elizabeth Taylor were the caricatures on the wall at the Tysons Palm under which commercial real estate women raised money Monday evening for breast cancer research. It's a wonder Hickok Cole's Joanna Hoffschneider, above left, found the time. She's working on 100k SF for Blackboard's headquarters in DC; with Lowe on 1 million SF of mixed-use/housing development at Fort Totten Square, and wrapping up Columbia Center. Michelle Rosati and Alice Haase of Holland & Knight, center, pictured with Gorove Slade's Cheryl Sharp, are the go-to due diligence women in NoVa; they have land use cases going on in at least 20 Virginia jurisdictions.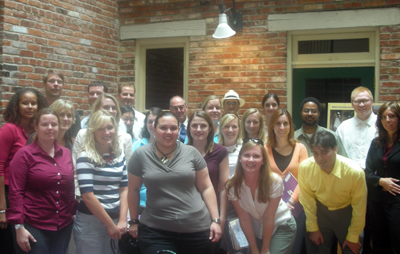 Architect Darrel Rippeteau (back row center, the intellectual looking one) is at it again: for the fifth year chairing "Canstruction," to be held September 15 in DC, when design teams compete to build the craziest sculptures out of cans of tomato juice, beans, Campbell's soup, or whatever they can find that creates the jazziest colors and shapes. In the process, they come up with an estimated 50,000 cans to donate to the Capital Area Food Bank. Above, at the kickoff meeting last week, reps of Hickok Cole, BBGM, DMJM, RTKL, Hartman-Cox, and Mancini Duffy. Good fun, good cause. But what is it with all the four-initial architecture firms?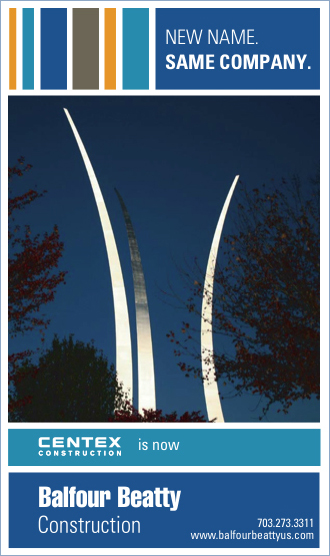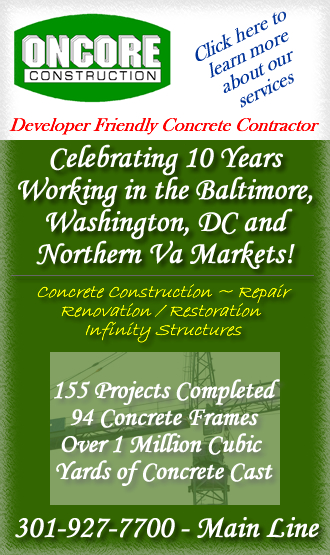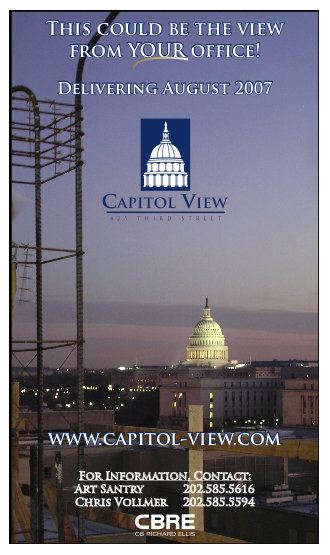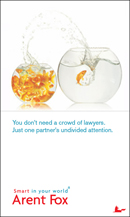 Thank You Subscribers!

Bisnow on Business Real Estate Daily
is now publishing five times a week.

We have doubled the size of our ads
And they're all on our front page!

Readership has soared…Climb aboard!

advertising@bisnow.com
tel 202-966-1200