JONES LANG:
ON THE MOVE—LITERALLY!
---
A BIG shout out to great new sponsor Buch Construction. This fast growing general contracting firm has over 120 employees in its Laurel, MD and downtown DC offices. New projects include working with Trammell Crow on the 180k SF LEED certified Milestone office complex in Germantown.
---
Serves 'em right for getting so big—they have to move! We popped into Jones Lang LaSalle's 1717 Penn office last week to get an update from regional head Dave McGarry, and learned the 350 staff there and at 1627 Eye will be consolidating at 1801 K Street around Halloween. Somerset Partners of New York bought the new building from Starwood in early '06 and kept on JLL to lease it (Trip Howell and Amy Bowser)—then to do property management and re-development. And whadya' know, it turned out to be a good building for JLL itself. All symbolic of a JLL philosophy: they have a lot of dimensions and try not to leave opportunities on the table.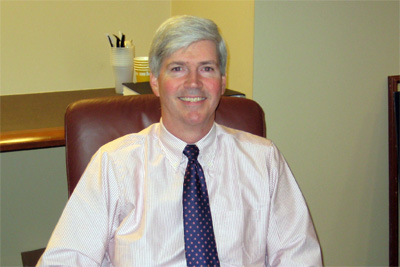 Dave McGarry talking with us in his offices last week.
January '06 was also the time that Dave came to Jones Lang, when it acquired Spaulding & Slye, where he was president. They kept him in the top job of the merged regional organization, and added responsibility for New England. He said it took him a while to appreciate the power of JLL: their institutional strength with investors like MetLife and TIAA-CREF, and their global perspective having 20,000 employees. For example, someone in another city the other day wanted to know about "sky lobbies," and JLL in DC was able to tell them about One Metro Center. What value has S&S brought to the table? JLL was known for significant large cap clients like Microsoft, Cisco, and Sun MicroSystems, and S&S brought mid caps and locals (even a huge one like Lockheed).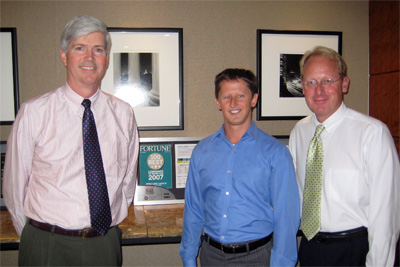 Above with Dave, research director John Sikaitis and DC leasing head Dave Bevirt. If we knew how to focus our lens better, you could see JLL's award from Fortune as one of America's "100 Best Places to Work."
John helps JLL make "data educated decisions"—which is pretty important, so he doesn't have to wear a tie. As for Dave B., he sees declining government activity these days—mainly renewals. But as overall head of leasing, he's busier than ever working with private sector owners and tenants due to continued job growth and the seemingly non-stop expansion of law firms.
What's JLL working on at the moment?
1101 New York Avenue: Hired by Dreyfus, the Trip and Amy team leased up these 400k SF 100% at $70 to the likes of E&Y, LeBoeuf Lamb, Google, and the Albright Group—close to a record for highest DC rent.
901 K Street: This Carr Properties 250k fronting both Mass and K just broke ground and a JLL team led by Dave Bevirt will do the leasing. Keep your eyes peeled in September for a big media blitz.
1129 20th: Re-skinning the building, which has just been sold from Republic to Liberty. Holly Davis and team will do the leasing, while JLL's construction group will do the build-out.
Big name deals: Development and leasing of Bozzuto's Silver Place; leasing of Meridian's National Gateway; leasing of Quadrangle/AEW's 8030 Towers Crescent.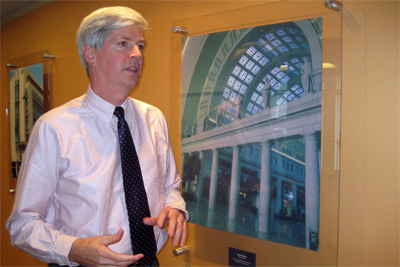 Dave's summer plans include a lot of driving – taking his son to camp in New England and then coming back through the Poconos with his daughter. He also putters around in the basement doing woodworking and runs to Strosniders on handyman chores. He has a heavy toolbox, but no mitre saw or toolbelt. He wanted his wife to let him refinish their piano, but she put the kibosh on that after he told her the story of once covering his parents' front door in furniture stripper and lighting it on fire for a speedy way of removing the paint.