GOLFER TURNED BROKER!
---
Sponsor Update: LandAmerica is on quite a streak so far in 2007. Local head Chris Naughten tells us the DC office insured over $3 billion in transactions in 2006, a record. But even that will be far surpassed for '07: In just the first half of this year, LandAm insured $3.15 billion!
---
Lots of brokers play golf—isn't that a requirement for their license? But CBRE's Dan Falls really golfs! He played professionally full-time after college on the Gateway Tour in Scottsdale for two years and made a valiant run at his PGA Tour card with rounds of 77-70-66-70 (5 under par) in his last trip to the famed Q School in 2004.
We decided we needed to find out more and sent Bisnow ace reporter Stacey Pfarr to play nine holes with him at the Army Navy Country Club in Arlington last week.
Stacey files this report:
In his "normal" job, Dan works on landlord and tenant rep assignments in the NoVA market. He closed 29 transactions in 2006 and has booked 26 YTD in 2007 with top clients like Brandywine Realty Trust, Charles E. Smith, and Perseus Realty. As a golfer, he holds two course records here, one at his home course of Manor Country Club in Rockville with a 65, and the other at Belmont Country Club in Leesburg with a 66. Intimidating to play with him? Yep. Let's just say I did my best.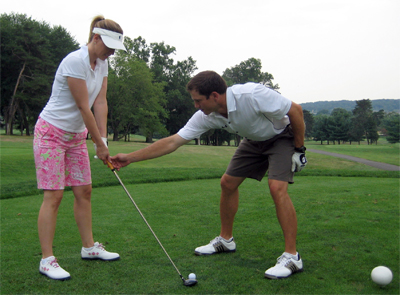 Here he's giving me pointers while I'm trying to get a grip, literally.
The Gaithersburg native started golfing in 1989 when he was 13-years-old. It took him only nine months to break 80 for the first time (I'm still working on 80 for the front nine) and he won the Maryland State Junior Championship in 1991. Dan went on to play at Furman University where he won two individual college tournament titles. Along the way, he has competed in the US Amateur, US Mid-Amateur, and US Junior Championship.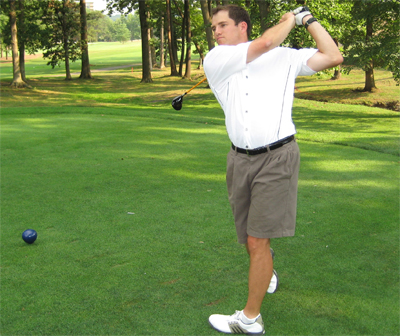 Dan drove this one so far that I couldn't even see where it finally dropped. And he even plays from the tips (I was 100 yards up at the red tees).
Since being a better golfer could mean getting more real estate deals, I asked Dan to share his wisdom:
FALLS' FIVE TIPS
"Thou Shall not Kill" the Golf Ball – Most of us swing too hard in an effort to get more distance and end up mis-hitting. Swing the club smoothly and in balance for solid contact, the key to adding yards.
Use an Intermediate Target – Most mid-high handicappers aim well right of the target and then are forced to swing "over the top" to get the golf ball started on line. Try lining up with a target (which can be a broken tee or a blade of grass) 18-36 inches in front of the ball.
Put your Ego Aside and Lay-up – The old theory that "trees are 90 percent air" rarely holds true. If your ball is in trouble and you can't realistically pull off the miraculous recovery shot you hope, take your medicine and get the ball back into play. Chip out sideways or backwards into the fairway—it'll take the double or triple bogey out of the picture.
Fine Tune the Short Game – Typically, more than 50% of a golfer's strokes are taken inside of 100 yards and on the putting green. If you want to lower your handicap, spend the bulk of your practice time on your wedge play, chipping, and putting.
Be Decisive – Great golf shots are produced when you decide on a strategy, pick a target, choose the club and then execute the swing with 100% commitment. Eliminating indecision and doubt on the course are paramount to playing good golf.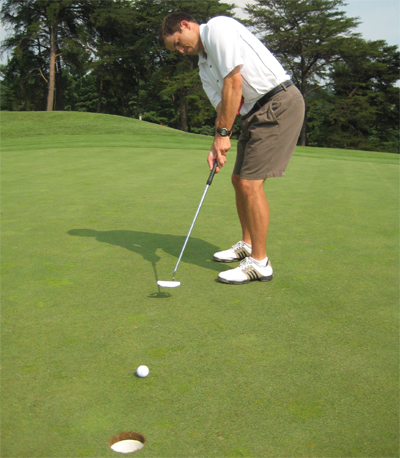 Dan says, "It's funny to think that hitting a little white ball 290 yards down the middle of the fairway can give you some sort of instant credibility in the business world." His first hole of client golf at CB was in May 2005, four months after he joined the firm. He played with Mike Cooper of Brandywine, along with Rob Faktorow and Terry Reiley. On the first hole, Dan sunk a 9 iron from 140 yards for eagle. Expectations were pretty high for the rest of the round and he ended up shooting 69.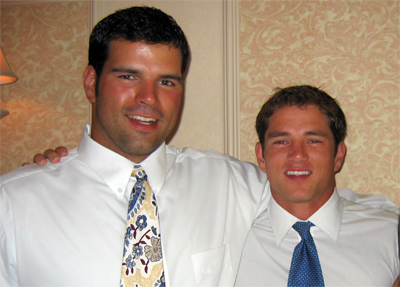 Athleticism runs in the family: Dan with brother, Tim, left, who played defensive tackle at Penn State from1998-2002. His dad even played football for Navy in the late 1960s.
I really have to thank Dan for my lesson, and give him credit: He was patient while I was a klutz. And he truly did help me get in the swing of things. I don't think I'll ever get past the famous saying, though: "Golf is a game in which you yell fore, shoot six, and write down five." Stacey Pfarr