FRIDAY ROUNDUP!
---
SPONSOR UPDATE: The "two Richards" (Newman and Nettler) of Arent Fox have been working away on some great cultural projects—eg, getting financing and zoning and securing public support for the Shakespeare Theatre's new Harman Center, which opens at the end of the summer.
---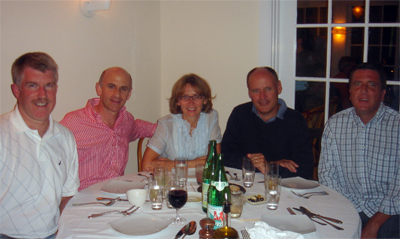 No, this is not Jack Nicholson, Billy Joel, Mick Jagger, Tom Hanks, or Sting—even though those folks also eat at the legendary Nick & Toni's in East Hampton above. This is a much higher-powered group: The Executive Committee of Vornado/Charles E. Smith at a two-day retreat last month. From left: COO Patrick Tyrrell, President Mitchell Schear, VP Laurie Kramer, VP Jim Creedon, and Chief Leasing Officer Brendan Owen. The retreat featured group spinning, spirited tennis, and cutthroat ping pong.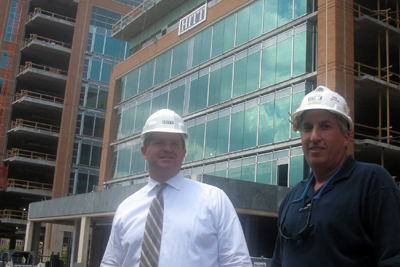 Red-hot Reston Town Center continues to rise. We were out there last week and snapped this photo of two key members of the HITT team: VP of Base Building Jeremy Bardin, left, and Senior Superintendent Dave Underwood, overseeing the 800k SF expansion that includes retail like Mon Ami Gabi (mmm...steak frites) and office tenants like Rolls Royce (engines, not cars).
HITT me baby one more time! With a little sweet talking, we managed to get some of the HITT team out of the air-conditioned trailer for a picture. Left to right, Chris Logsdon, Donovan Bennett, Adam Yeh, Eric Bailey, T.J. Pake, Josh Foreso, Joe Kmiecinski, Drew Moore, Kerrigan Scrimshire, Matt Hajec, Jeremy Bardin. Whew! Try saying those names 10 times fast.
Above, Transwestern's Caulley Deringer and Cassidy's Spencer Stouffer stay cool in front of an ice sculpture (look closely: it's in the shape of a hand pouring a cold one!) at Spence's Vienna home the other night, where they honored friends of the Peter Lawrence Companies. Though PLC is based in Tampa, they do 1.3M SF in NoVa and the party was a thank you to brokers who do business for them. Factoid: Caulley just got back from a week-long trip to Scotland, where he was caddied by a guy who had 8 holes-in-one!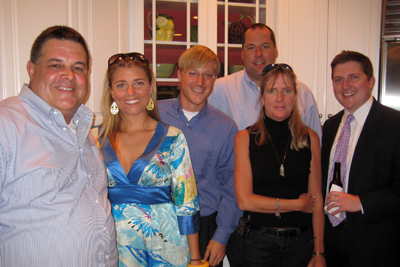 PLC's president and co-host Kris Hoover, Cushman's Ali Baake, Cassidy's Conor Murphy, PLC VP and co-host Mike Saale and Linda Kozloff, and Cassidy's Chris Lucey. PLC owns, develops, and manages industrial, flex, and suburban office buildings – the only thing they outsource is leasing. Partnering with PLC, the Cassidy team has leased more than 100k SF.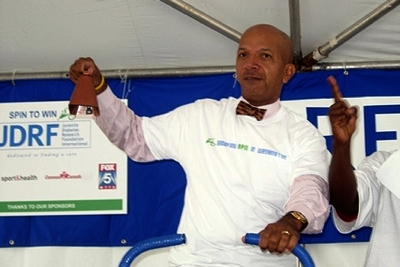 The Juvenile Diabetes Research Foundation is working to redefine "spin" in Washington and you can too! Above, DC Mayor Tony Williams (remember him?) ringing the bell to get folks spinning at last year's Inaugural Spin to Win to benefit JDRF. The stationary bicycle competition pits five-person teams from all business sectors in a 40-minute race (8 minutes per rider) to see who can rack up the most mileage and money for diabetes research. SPIN TO WIN 2007 takes place during the workday (not that you would want to leave your desk) on October 18th in DC. More info: www.jdrfcapitol.org.