DEK AND JIM TO HFF
---

Who did we see at the hot new Rays the Classics steakhouse in Silver Spring last Tuesday evening but grizzled investment sales vets Dek Potts and Jim Meisel, who tell us that after 7 years with GVA Advantis, they've just started at Holliday Fenoglio Fowler.
Dek says they wanted to take advantage of the national capital markets platform offered by HFF, which unlike a Grubb, Cushman, or CB, specializes in providing debt and equity for owners and avoids leasing, management, construction, and its own investment. The closest analogy seems to be Eastdil/Secured. HFF now has 18 offices and in DC has 30 people. It's growing and moving in the spring to the Army Navy building.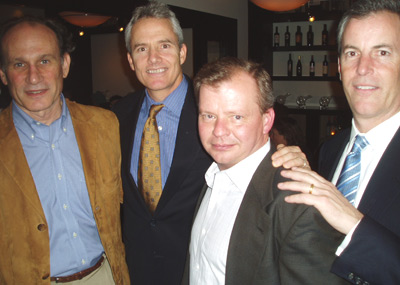 Above, Dek (second from left) and Jim (right) break away from their rib-eyes and New York strips to pose with Argo Investment co-principals Richard Perlmutter and John Austin, with whom they were having a belated closing dinner. When with GVA, they represented them and Foulger Pratt on the sale of 101 Orchard Ridge in Gaithersburg, 100,000 SF they sold to Columbia Equity Trust that closed at the end of September for $26 million.
On the home front, Dek's family celebrated its first Christmas in the 1899 Cleveland Park home they just finished renovating, in time to get a pool table from Santa. At the Meisel household, Santa left Jim's wife an even hipper gift, a motorized Vespa scooter. No wonder the wives didn't need to be out eating steaks.

EVENTS!

WIRRE (Women in Retail Real Estate) networking, and presentations from several of region's new restaurants, Jan 18, 6-8pm. Embassy Suites at Chevy Chase Pavillion, contact WIRRErsvp@aol.com
DC Preservation League's 35th Anniversary Celebration, Jan 25, 7pm
The Willard. Hosted by radio personality Robert Aubry Davis. More info
ABC Metro Washington's Project Managers' and Superintendents' Academies, Jan 25-27
Harbourtowne Conference Center, St. Michaels, MD. More information on Project Managers' Academy: http://www.abcmetrowashington.org/user-assets/Documents/EventsSeminars/2007-1-ProjectManagers.pdf
DCBIA Real Estate Seminar: "Got Capital?" January 25, 7:30-10:30am
National Press Club. More info
Chicago Title Insurance Co. presents: "Real Estate Associates Pub Party" (sorry no partners allowed!), Thursday, February 22, 6-9pm
Casual food, drink, and networking at R.F.D. (810 7th Str., NW). Email Charlotte for more info, charlotte.troup@ctt.com
Thank You Subscribers!

The Bisnow on Business
Real Estate Weekly
is now publishing three times a week.

We have doubled the size of our ads
And limited them to three per issue.

Readership has soared…
Climb aboard!

advertising@bisnow.com
tel 202-966-1200