RESTAURANT EDITION!
---
The sidewalks may be burning at 100°, but you ain't seen nothing yet. Just wait 'til September: The Bisnow HEAT LIST! The Top 50 power players in commercial real estate. Just a snapshot of who's got the juice. Let us know your thoughts about who should be in, who should be out; and why. Write anonymously, if you like. With a secret decoder ring, even.
---
Not to drop names, but we went to Jose Andres' house last night in Bethesda for a great party to stir up interest in November's fundraiser for a wonderful cause: DC Central Kitchen. Jose, of course, is Washington's Wolfgang Puck and Julia Child rolled into one: World famous chef, cookbook author, and businessman—part of the Jaleo/Café Atlantico/Zaytinya/Oyamel empire—and now host of the most popular TV show in Spain! (You heard us right, not just most popular food show.)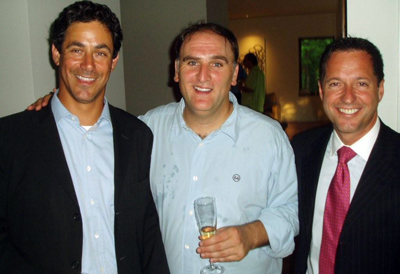 In his library last night (see, he doesn't just spend his time in a kitchen), Jose is flanked by McFarlane Partners' Brad Dockser and US Chamber of Commerce National Political Director Bill Miller. Out of sight, Bisnow operative Elliott Bisnow proudly holds cookbook Jose pulled off his bookshelf moments before and inscribed to him when he learned that Elliott had once spent five weeks at tennis camp outside Barcelona in Jose's own little home village! Inscription read: "Rock USA with Tapas!"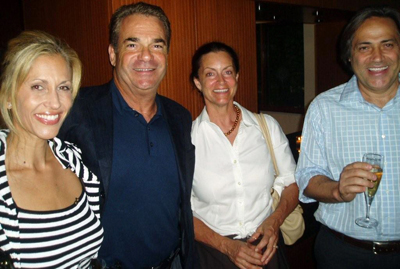 Also on hand at Jose's were, above center, developer Herb Miller and wife Patrice, with Yasmine and Iraklis Karabassis on either side. Iraklis, based in G-Town like Herb, owns 100 stores in the east, including many MaxMaras and Benettons. Not surprisingly, he and his wife will spend next month at his house in Mykonos soaking up the rays. Herb came at the invitation of Fidelity Trust CEO Barry Watkins, who is co-chairing the November 6 Capital Food Fight at the Reagan Center. With a battle of all-star chefs like Eve's Cathal Armstrong, Charlie Palmer's Bryan Voltaggio, Hook's Barton Seaver, and Vidalia's RJ Cooper—plus 900 guests and maybe some heavyweight mystery guest chefs from out of town—they hope to raise $350k. See www.CapitalFoodFight.org.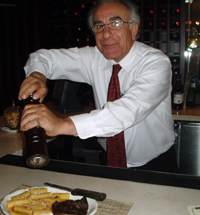 Speaking of food, Il Mulino on Vermont Avenue has been around over three months, but finally it'll be getting a patio. Hungry, as always, we visited them yesterday, and because we got there late, Ken The Bartender (left) served up a quickie at the counter. Don't let this fool you: they're a white linen, immensely popular NYC joint that is already luring in the likes of Larry King, Alberto Gonzalez, and John Kerry. Eh, forget the local yokels, the other day they had our favorite role-model: Larry David!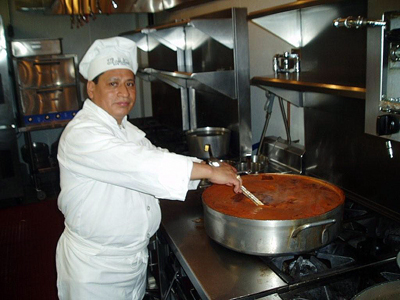 Head chef Manuel Ramache cooks up some secret sauce—might be used for their popular pasta ravioli with stuffed porcini mushrooms and champagne truffle sauce. They aim to be a sort of Morton's of high end Italian resuarants. But here's the real estate news: David Pinchuk, the guy who flies around opening all their new sites, tells us he's gone through the process of checking with the ANC, the Metro, the building owner, and the "Public Space Committee," and as early as Friday wil be able to set up 10 teak-slat round tables outside with cream colored umbrellas. Now, if they can just lower the temperature outside!
Herman Miller's Lisa Scala hosted another of her real estate happy hours recently at Cabanas, here with Fraser Forbes' Mark Anstine and Cushman's Craig Bernstein.


For advertising information, please contact advertising, or call (202) 966-1200