GOAL:
NETTING CASH FOR KIDS
---
CBRE honchos, clients, and friends gathered at the Kettler Capitals Iceplex the other night in Ballston to battle on the ice, and in the process raise money for the Nova Cool Cats, an organization that coaches special needs children. Who knew that such a fanatic hockey underground exists? Now all they need to do is set up a DC Real Estate Thunderdome Battle of the Sticks: Hockey versus Lacrosse.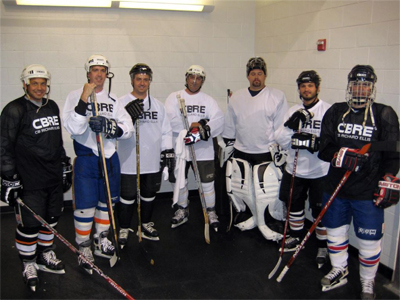 CBRE regional head John Germano (far left) looks eager to get on the rink and body check his co-workers, clients, and especially his good friends. The goalie for the client/friend team (white jersey, leg pads) closes his eyes in what seems to be a pre-game relaxation meditation.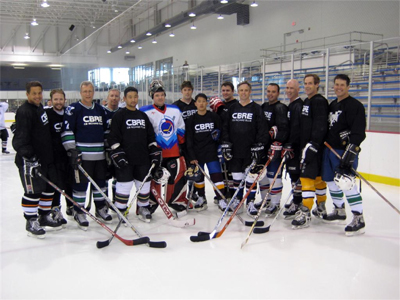 CBers players wore black jerseys in order to maximize their intimidation factor. Jerry Reich, Senior Director of Project Management and goalie (middle multi-color jersey) is a former professional hockey player for the Washington Capitals and the Tampa Bay Lightening. Hmmm, these guys are serious.
Clients and friends donned white uniforms to offset the Darth Vader factor of their opponents' attire. They knew CBRE had a ringer in Reich, but they also understood 80 percent of success is just showing up. Players came from all over for the charity game; Bob Provost (TA Associates' Director of Acquisitions) even flew in from Boston.
Art Santry, former Hobart player and big deal broker, knows that the best defense is a good offense, err, uhh, pair of socks. Art's tubular attire blinded his opponents as he thwarted aggressive client players from entering the defensive zone.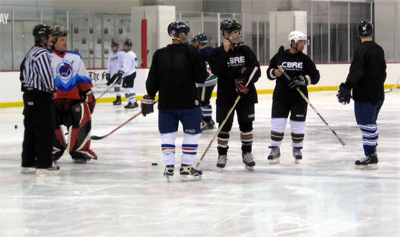 CB players discussed their strategy before the game. We're guessing that, Chris Soucie, former Army Major and one of the masterminds behind the CBRE league, is briefing the players in a plan of attack. We imagine his saying, "Hang right and confuse them with a barrage of shake 'n bakes, then go in for a Gordie Howie hat trick, and follow up with a deke shot that results in hitting the puck between the pipes." Or something like that…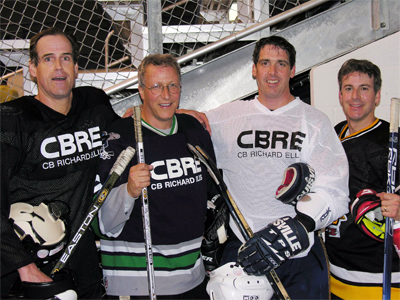 CB's Art Santry and Rob Faktorow, TA Associates' Bob Provost, and CB's Bill Prutting, Jr. cool down after their epic battle. Everyone chowed and cheered afterward at Rock Bottom Brewery, where players collected over $3000 for Cool Cats.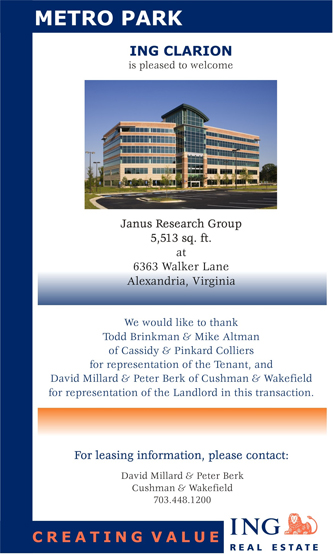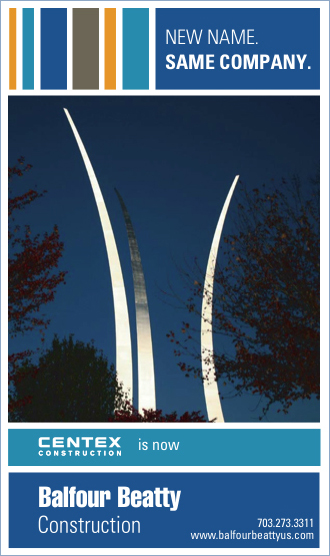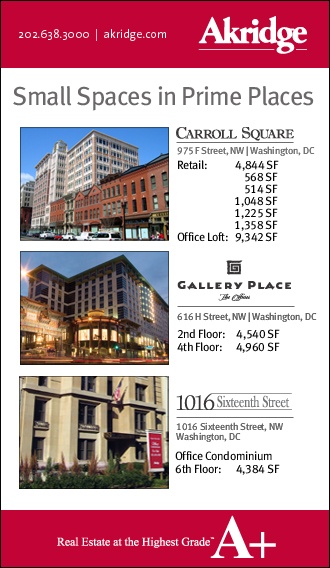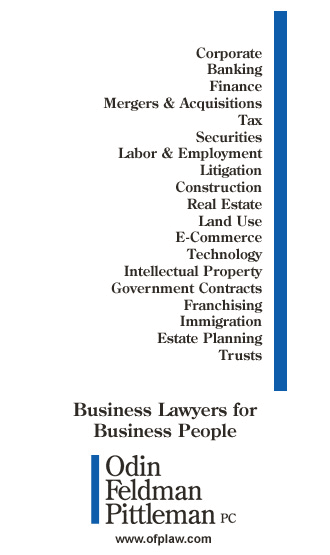 Thank You Subscribers!

Bisnow on Business Real Estate Daily
is now publishing five times a week.

We have doubled the size of our ads
And they're all on our front page!

Readership has soared…Climb aboard!

advertising@bisnow.com
tel 202-966-1200