LAST NIGHT'S CARR PARTY

---
By Stacey Pfarr, Chief Fun Correspondent for Bisnow on Business
Carr Properties was running on all cylinders last night at the Willard as it introduced its first development project in DC since the company re-formed from Columbia Equity Trust in March. The planned trophy office, at 901 K Street, nestled between the Henley Park Hotel and the neo-classical Mount Vernon Place United Methodist Church in East End, will be 12 stories and 250,000 SF. Delivery is scheduled for Q2 '09.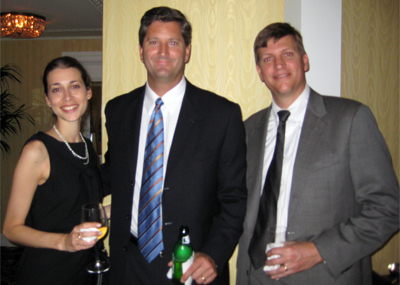 Above, Carr Properties CEO Oliver Carr is flanked by JP Morgan analyst Adi Mayan and her colleague Mark Bonapace (a Carr board member), down from the Big Apple. How did Carr find the site? Oliver's mom is on the board of directors at the Methodist Church and gave him and his brother Bob the scoop on the site next door, which they eventually bought from Blackstone.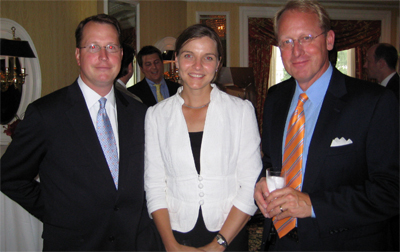 Of course 901 K will be Green. Jones Lang's Dave Bevirt, above right, with colleague Amy Bowser and Cassidy & Pinkard's Mark Sullivan, quipped that the site gets "60 miles to the gallon." As good as a Prius, the LEED-Gold building will have energy-efficient roofs and terraces, water conservation fixtures, and lighting, as well as a high performance glass curtainwall. These guys are big into the environment—including lots of outdoor fun themselves this summer. Mark is heading to the Outer Banks in Duck for the 4th of July, and Dave is hitting the surf in Ocean City.
SmithGroup is doing the design. From left: Andy Rollman, Chris Woody, Coke Florance, Chris Mayor, John Crump, and the firm's national chairman David King. Coke just got back from SmithGroup's D-Day interpretive center, which opened in France at the American Cemetery at Omaha Beach in Normandy. John is heading off to a beachfront villa in Croatia for a vacation with some architecture buddies from college. (Read: Drink keg beer and tell inside jokes about corbie gables and balustrades.)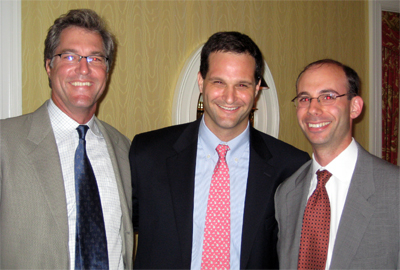 Carr development team leaders Wyatt Shoaf and Austen Holderness, and acquisition VP Scott Nudelman are all smiles now that demolition has started. Although there hasn't been an official groundbreaking ceremony, there will be a pretty impressive "trophy hole" in the next month. No pre-leasing yet, since the land just closed two months ago. But Carr is not resting. On another front, it just got Alexandria city council approval for 1701 Duke Street on Saturday where it's building Edmonson Plaza in Old Town. Scott plans to join Oliver and other Carr colleagues in August on Nantucket for the "Rock Run," a 50 mile charitable relay race on the sand around the island. Those competitive folks at JP Morgan challenged Carr to race when they bought into the company earlier this year.

Thank You Subscribers!

Bisnow on Business Real Estate Daily
is now publishing five times a week.

We have doubled the size of our ads
And they're all on our front page!

Readership has soared…Climb aboard!

advertising@bisnow.com
tel 202-966-1200