CAMPING OUT FOR
CAPITOL QUARTER
---
Ok, you aficionados: Who did the concrete construction for the Mandarin Oriental, the Newseum, and those three cool spires of the new Air Force Memorial? Our great new sponsor ONCORE. Just marked their 10th anniversary, now $70m in annual revenues, 500 employees (3 of original 5 still with them). A long way from their first $50k project when CEO Bob MacDaniels did sales in the daytime and project management at night. Hey, that gives us inspiration!
---
With all the tents, portable grills, and canned chili, you'd think it was an all-night tailgate, not the future home of the $430 million redevelopment, "Capitol Quarter." Potential owners have literally been camping out for months on the lawn outside the 4th Street SE sales office to secure their place in line for the release of next month's market rates. One hopeful buyer even flew back all the way from Australia to relieve his wife from her place in line.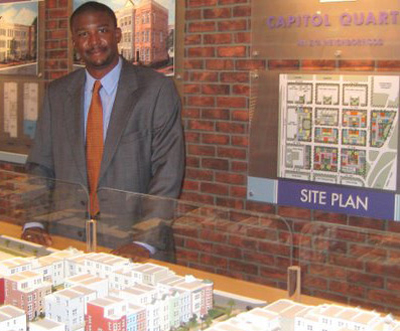 Brian Jackson, project manager for EYA, which is doing the development with the DC Housing Authority, says the style blends classic and modern: it's "the charm of a Capitol Hill home, without the pain in the neck of having to replace a 60 year old roof." In 2001, HUD awarded the DCHA a HOPE VI grant to revitalize the Arthur Capper/Carrollsburg area. Capitol Quarter will replace the previous complex of 707 barracks-style, low income public housing units with more than 1600 new mixed-income rental and home ownership properties. Though busy, Brian will still be able to take a few days soon to celebrate his first wedding anniversary by driving down Highway 101 with his wife and hitting coastal towns in Oregon and Washington State.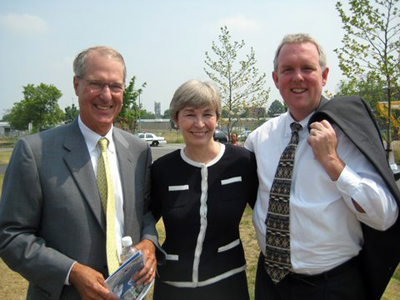 Above left to right, EYA co-founder Terry Eakin, DC Housing Chief Leslie Steen, and Ward Six Councilmember Tommy Wells join in breaking ground. Tommy calls Capitol Quarter the "hottest new neighborhood in DC, and it hasn't even been built yet." So far, they've sold everything released—all 55 units.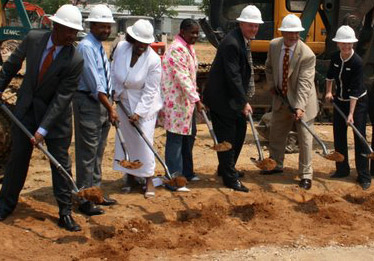 Above, happy new owners, EYA execs, and DC bigwigs break ground on Phase I. Why the excitement? Soon-to-be residents say they'll be able to zip over to the new ballpark, keep a boat within walking distance on the river, and head to 8th Street's international restaurants to eat. Frank Smith of DCHA says the neighborhood is also providing 1000 new jobs because you "have to have a job if you want to own a house."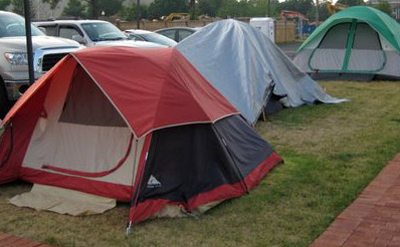 Yesterday we went back to the site of Tuesday's ground breaking, to find that the tents, which had temporarily moved for the ceremony, were back. It was around dinner time, so all the campers were gathered at a folding table, playing Dominoes, and discussing if they should eat Quizno's or Subway. These five former strangers have spent the last 3 weeks together, and even though they wouldn't necessarily consider themselves friends, they do attest to knowing their future neighbors extremely well. Apparently there are five houses that will be released in July, and there are five campers. When we asked what would happen if a sixth person tried to get into the line, one CQ hopeful said plainly: "We wouldn't let that happen."

Thank You Subscribers!

Bisnow on Business Real Estate Daily
is now publishing five times a week.

We have doubled the size of our ads
And they're all on our front page!

Readership has soared…Climb aboard!

advertising@bisnow.com
tel 202-966-1200