BULL MARKET
CONTINUES IN RETAIL!
---
Yes, it's true, we purposely make mistakes so we can issue corrections to look like a big-time newspaper. No, Lorton couldn't have been built under Teddy Roosevelt in the 1920s, as alert readers noted, since he died in 1919. But he started the process. So we shoulda' said "under TR's inspiration."
---
We've been wondering whether retail is keeping pace with the frenetic office scene, so we thought as another installment of our mid-year forecast series we'd ask an expert, CB's Bill Kent. The 19-year veteran of the DC real estate scene and his colleague Gary Lawrence run a team of seven that has a big slice of the pie when it comes to local retail. Bill's motto is "anything retail" and his work spans sales, recapitalizations, and joint ventures. He does deals of $1.5M to over $2 billion—quite a range!
THE MARKET ACCORDING TO BILL:
DC's economy has been one of the strongest in the country in recent years. This has been great news for retailers. Thriving national chains, together with tight supply and land use controls, have driven property sale prices through the roof.
No "Wal-Martization of America" in our neck of the woods! Big-box restrictions adopted in some local jurisdictions have limited the "Wal-mart impact" on our retail landscape as compared to other parts of the US. In many other markets the first question an investor asks is, "Where is Wal-mart and do they already have a Super Center?" This is not a factor here.
Cap rates hanging in there at 6%? Amazingly, that's what Bill sees—he says those retail investors have more money burning a hole in their pockets than there is supply of good property.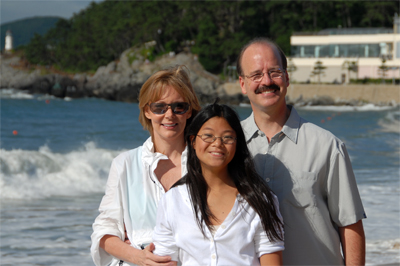 Above, Bill with wife Debbi and youngest daughter Melanie, on the beach in Busan, Korea during a vacation earlier this summer. They spent two weeks immersed in Korean culture and history with five other adoptive families.
Glass half full? Yep. CBRE is bullish on retail real estate sales prices through the rest of 2007 and into 2008. In fact, Bill sees uniform optimism within the regional markets.
It's a good time to be a retail landlord! Rental rates are on the rise with no end in sight. Even though the vacancy rate hovers around 4%, if you account for "frictional vacancy," then BOOM: True rates are under 2%, a historical low. We think this means rising rents!
Gone are the days of a downtown ghost town after 6 PM. As new residential developments move in, so does demand for 24/7 amenities: People want to be able to grab a vanilla soy latte at 2 AM and then hit up their local 24hr gym on the way back from the all-night diner.
Trendwatch: High-density mixed-use redevelopment. Bill thinks that in the dense infill areas, you're going to see the demolition of older single-story retail buildings being replaced with high-density multi-family housing over first floor retail. Just look at JBG's 1700 Duke Street project -- a one-story strip shopping center was replaced with a 43k sf Whole Foods and 116 residential condos above and a parking garage below. Or Duball's Lionsgate in Bethesda -- a two-story retail complex was replaced by one-story retail with luxury residential condos above.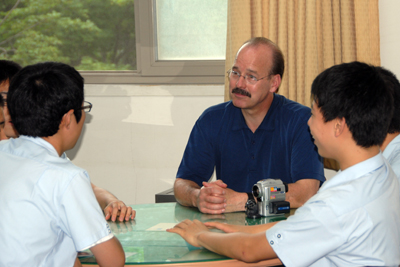 Above, Bill visits a South Korean high school and spends time chatting with students in their English class about their respective cultures. Bill was talking cap rates and frictional vacancy, but we hear they changed the subject to American Idol.