BROKERS OF THE
WORLD, UNITE!

---
A big shoutout to an exciting new partner, Capital Region Careers, an interactive job board recently launched by the Greater Washington Board of Trade and 10 area chambers of commerce including DC, Bethesda-Chevy Chase, and Fairfax County. A handy resource for both job-seekers and employers—see ad at bottom right.
---
Cushman to the rescue! Lead broker Mark Minich together with Josh Kreider is doing double duty on 202,000 SF Chevy Chase Center—the big new building next to those fancy stores of "The Collection." First they found it last year for client Mills Corp, which was going to occupy the whole thing; then when Mills' accounting restatement hit and it downsized, they re-leased half; then when Mills got sold this April to an Indianapolis firm (keeping only 15k SF as a regional office) it started subletting the rest.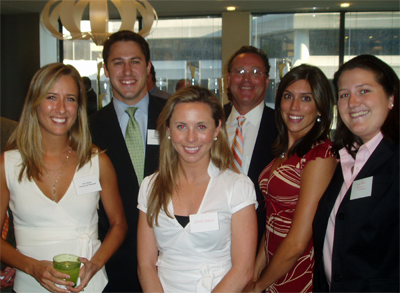 The solution? A party! Above, Cushman's Katy Helms, Josh Kreider, Emily Busse, Mark Minich, Kim Whitaker, and Julie Burke made it so appealing that brokers from CBRE, Studley, Cresa, and Staubach, among others, had the discipline to walk past the hopping new outdoor bar at Clyde's on the street level below and come get their drinks with the Cushman Crowd in an 8th floor conference room. The area is a happening place: Cushman has already attracted prestigious v.c. NEA from Reston, and Boston Properties just signed Capital Source for a new headquarters across the street at Wisconsin Place. If they can negotiate corporate discounts for spouses at Jimmy Choo and Cartier, they'll rent the rest in an instant.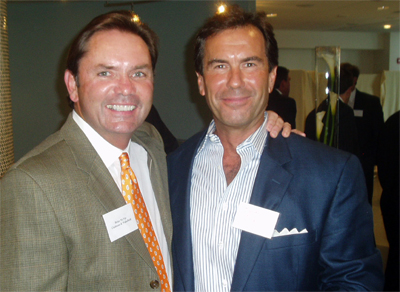 Quick—who's older? No one—they were born on the same day! Cushman's former regional head Brian McVay and Diamond Property's Brian Tucker, also at the party, celebrated their joint birthday last week: they are both exactly [NATIONAL SECURITY DELETION] years old. Brian and Brian (wow, even their names are the same!) learned about this in 1989 when McVay was giving Tucker's diesel Mercedes a jump start. Tucker looked at his watch and said he had to go to his birthday dinner with his wife. McVay thought he was putting him on, somehow knowing McVay had to do the same thing. They showed each other their drivers licenses to prove it, and have been giving each other annual cigars ever since—except last year when Tucker gave McVay a GPS and NoVa road map to mark his return to brokerage. You insist on knowing their age? Let's put it this way. If you went back in time their combined ages, Teddy Roosevelt would be president.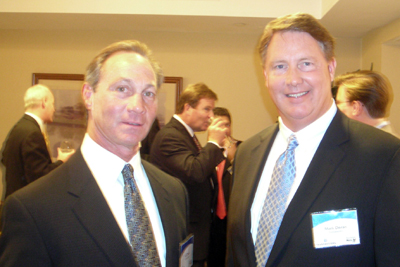 Crystal Ball Time. Above, at another reception last week, Transwestern COO Mark Doran, right, in from Dallas, with Bethesda-based Al Cissel, co-director of the firm's Institutional Multi-Family Group. They were at the Fairmont for a panel of institutional investors brought together by Real Estate Media Group Publisher Michael Desiato, predicting local and national real estate trends. Doran oversees Transwestern's operations in 22 offices across the country.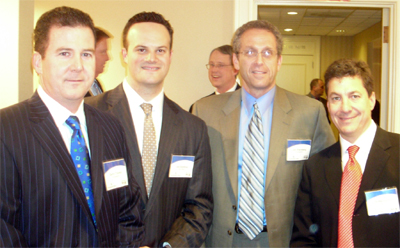 Also at the Real Estate Media event, above, Transwestern's Gerry Trainor, Jon Kleinberg and Cliff Mendelson flank Bear Stearns' Joe Dyckman, second from left. Gerry was Transwestern's #1 broker nationally in 2006 and is off to Deep Creek Lake for vacation. Why not? He just closed big sales of Crown Ridge (200k SF office in Fairfax) and City Crescent (300k SF in Baltimore). Cliff, head of the firm's structured finance group, just put the finishing touches on the Herndon Residence Inn deal. Like others at the session, Mendelson sees cap rates heading up as the investment sales environment tightens due to rate increases and changing lending standards.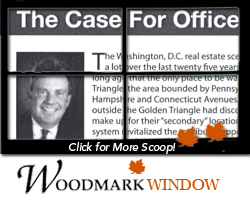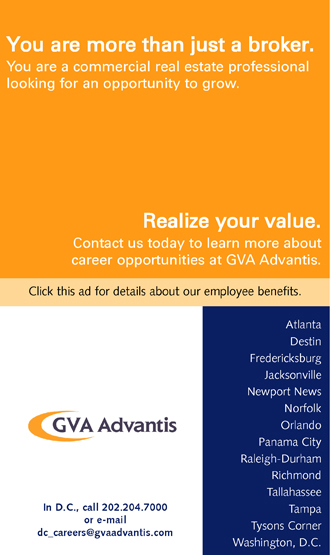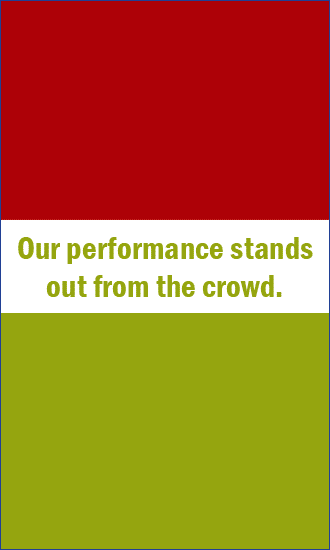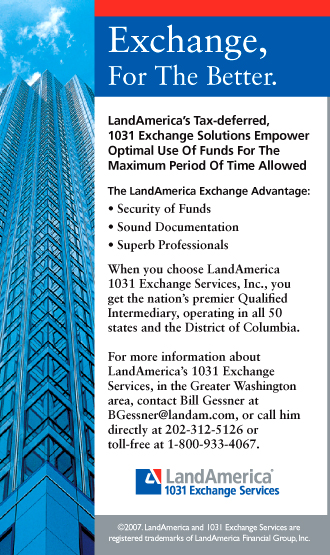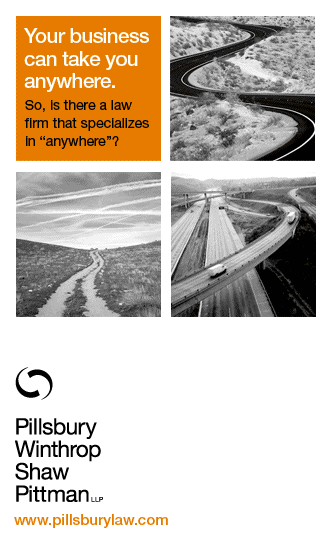 For advertising information, please contact advertising, or call (202) 966-1200