BOSTON PROPERTIES
ON A TEAR
---
Office condos are hot! In our story Wednesday, we forgot to mention two others in the works: 2021 L St (79k SF), repped by Woodmark's Geoff Kieffer; and 1510 H Street (44k), repped by Lincoln Property's Ed Gilpin. And historians tell us that at least as far back as 1990 there were DC office buildings for purchase floor-by-floor even before the most recent cycle.
---
How does Boston Properties DC head Peter Johnston have time to do oil paintings (see impressive evidence at bottom)? He says BP has more development going on here than ever before. We sat down with him in their offices above Acadiana, but learned they're moving a few blocks away to 505 9th in two months. That's symbolic of their frenetic activity. Of course they own both buildings, but Peter says they're nomads, taking care of their tenants first and using for themselves only what's leftover. Tenant Finnegan Henderson, the big IP law firm, requested more space in their current building, so BP promptly offered to move.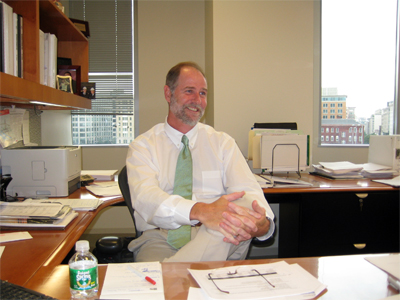 BP owns 9.5 million SF here. Peter says they generally hold and focus on the rental stream. Here's an update Peter gave us on current projects:
IN DC:
Square 54: What he sees as the most coveted location in town will break ground in '08 for a 2010 or 2011 delivery. BP is teaming up with Kettler for 350 high end apartments, 440,000 SF of office, and 80,000 SF of retail.
20 F St. NW: A parking lot next to the Irish Times is being developed for the American College of Surgeons as their DC headquarters, scheduled to break ground Q2 '08 for Q4 '09 delivery.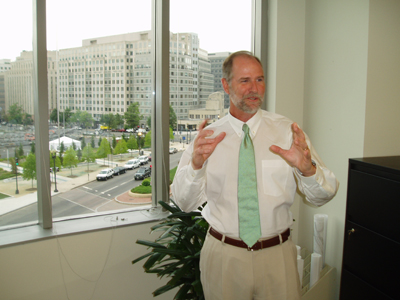 Believe it or not, that is a rare scrap of land in the background without BP land or buildings. Some competitor owns that stuff, but it does make a pretty view from Peter's office, so he doesn't object.
MARYLAND:
One Preserve Parkway: Their second building at Tower Oaks, across from Clyde's in Rockville, will deliver in Spring of '08. It's 180,000 SF of which Booz Allen is taking 30k.
Wisconsin Place: On Western across from the Chevy Chase Collection, Peter sees this as the poster child for high-end mixed use space and smart growth, on bus lines and Metro. It's over 300,000 SF of office, 55% pre-leased as the new headquarters of Capital Source. New Engand Retail Development is doing the retail and Archstone Smith the 400 apartments.
Annapolis Junction Business Park: A joint venture with Gould Property, this project is set to deliver in June '08, 120,000 SF with high security specs to accommodate DoD contractors migrating from Fort Meade.
VIRGINIA:
South of Market: BP thinks these three buildings in Reston Town Center may be, at 630k SF, the biggest 100% private spec project ever in the region. But 70% is already committed, for which they're getting the highest rents in Northern Virginia—Peter says "they all start with a 4."
We had to twist Peter's arm to get him to pose with one of his pictures—he painted his own version of Monet's The Magpie. A few years back, Accenture got his family a pass into the Van Gogh exhibit, he found it relaxing, and he's been painting ever since. A new profit center for BP? Sorry, the paintings are not for sale!