DEVELOPER SEES STRONG MARKET FOR "WORKFORCE CONDOS"
---
A shoutout to our sponsor, the American Bar Association's Real Estate Symposium April 26-27 of this month at the Fairmont—top speakers on the hottest topics in real estate, plus CLE and practical courses for young lawyers, too. Vice chair of the ABA real estate section is Ballard Spahr's Roger Winston. See ad to right, or click here.
---
Think the condo market is weak? Development and construction company Ellis Denning of Rockville sees the bright spot as urban units priced around $250-400k for working families with incomes of around $90k or less. They are building away in Fort Totten (with Lowe), Columbia Pike (with Davis), and on Logan Circle.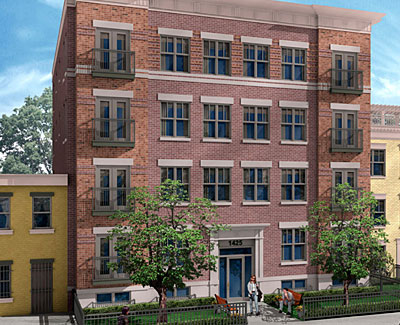 One of the reasons they see strength is that the segment hasn't been overbuilt and is still greatly underserved. But the other reason is they have figured out a way to lower costs: they specialize in construction using light gauge metal and wood frame which, under the DC building code, you can use to build 5 to 7 stories. High rises require much more expensive concrete and heavy steel.
Although others use their technique, they tend to be those who build garden apartments in suburban areas. Ellis Denning, on the other hand, have learned to use it in constrained spaces in the city: They call that "an urban attitude with a suburban application."
Managing Partner Marc Weller says his special techniques allow amenities usually associated with upscale housing, such as "granite you can afford." He sees an "unlimited number of buyers" for one and two bedroom products along these lines.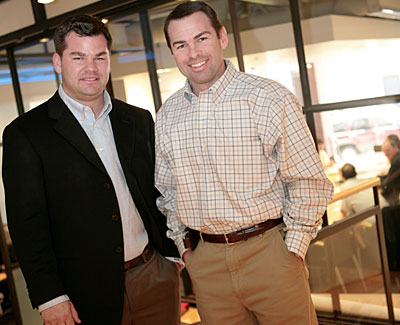 By the way, doesn't Ellis Denning sound like a distinguished old line developer?
That's what the 30-something founders hoped when they started the firm in 1999 and came up with the name. But it's just their middle names. Now they have $350 million in work going on.
Richard Ellis Ward, 34, and Marc Denning Weller, 35, were friends who met playing football at Wooten High in Rockville (quarterback and nose guard, respectively). Rich had been building townhouses in Prince William and Marc was working for Lincoln Properties as a supervisor at Potomac Yards. They were sitting around Marc's apartment in Kalorama Triangle dreaming up names when they came up with "Ellis Denning." From the kitchen Marc's wife called out—"I like it!"—and the identity was born.
It's now a 3 way partnership: Kevin Ash (pictured above right, with Weller) joined in 2003 to handle third party construction. He must not have a mellifluous middle name.

For advertising information, please contact advertising, or call (202) 966-1200