BASH AT THE HAY ADAMS
---
A shoutout to our newest sponsor, Group Goetz Architecture—known to aficianados as " GGA." Lewis Goetz started the firm 30 years ago, and now with 63 architects has recently done buildouts for law firms like Foley & Lardner and restaurants like Central Michel Richard, and is designing the renovation of the US Commerce Department headquarters. We'll be telling in a coming issue of their Visions of Washington event May 16.
---
Elliott Bisnow on the party scene:
Where: Hay Adams roof, overlooking White House, last Thurs night
Who: Wachovia commercial real estate group, 175 of their closest friends
Heat Level: 9.0
Spotted: Nats co-owner Bob Tanenbaum; Clark Enterprises prez Larry Nussdorf; Douglas Development's Douglas Jemal (and various family members); Lionsgate developer Marc Dubick; Buchanan Partners' Bob Buchanan; Uniwest chairman Norman Pozez; Opus East prez Jim Lee; Wachovia Washington prez Sam Schreiber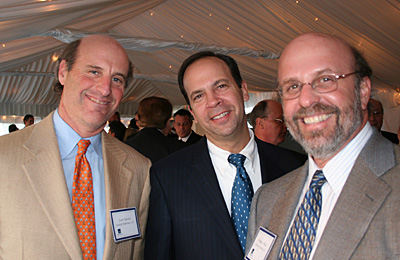 Kodiak's Scott Spector, Uniwest's Norman Pozez, and Finmarc Management prez David Fink. The party was a chance to catch their breath. Kodiak just closed on four properties from its new $30mm Spectrum Properties Fund I: two shopping centers (in Woodstock and Richmond) and two industrial sale leasebacks (in Jessup and Bowie), and through Spectrum Partners (with principals from both Kodiak and Finmarc) bought a Manassas shopping center and 180,000 SF of industrial buildings.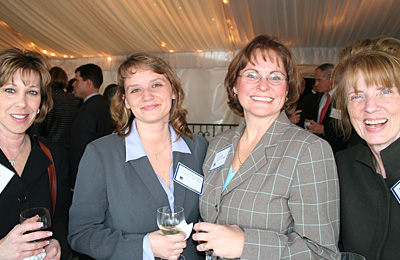 Wachovia's Claire Cline, Lacrosse Home's Tracy Richardson, and Elm Street Development's Ellen Swarts and Cathy Griffin.
Big hitters. Buchanan Partners' Steve Hubert and Brian Benninghoff meet up with Marc Dubick, Bob Buchanan, and Vardell Realty's Michael Vardell.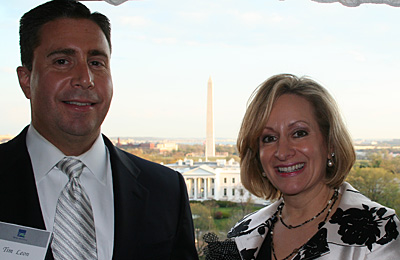 How's that for a view! With the White House and Washington Monument in background, Wachovia's Tim Leon stands with Wachovia private banker Karin Gifuni. Just back from spring break with his family in Boca, Tim hosted this sixth annual event, celebrating a second consecutive year of providing over two billion bucks to local clients.

SPONSORED LINKS:
Join Wachovia and Cardéa Commercial for a weekly 1031 Exchange & Tenants In Common (TIC) educational Webinar. Click here for details.
Juvenile Diabetes Research Foundation's Online Auction in support of the 2007 Real Estate Games: www.realestategames.org.