BASES LOADED!
Yesterday the skies opened up with torrents of water at precisely the 1 PM start time for the new baseball stadium topping out ceremony. But don't they always say rain is good luck when you get married? We were there, along with 700 workers and scores of friends and officials. But the key people were the Clark/Hunt/Smoot team that's keeping the construction on schedule, and the Lerner family that's going to put a World Series winning team on the field.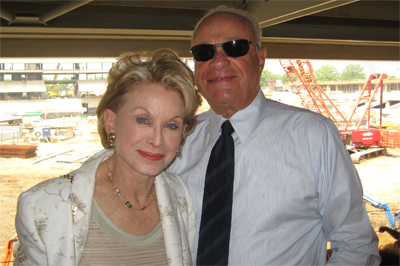 Annette and Ted Lerner are not only great team owners, but amazing grandparents: They just returned from London where they took 4 of their lucky 9 grandchildren (roughly college age) to Wimbledon for the quarters and semis. Nadal and Venus may have been sweating, but Annette told us it seemed downright chilly compared to yesterday's heat in DC.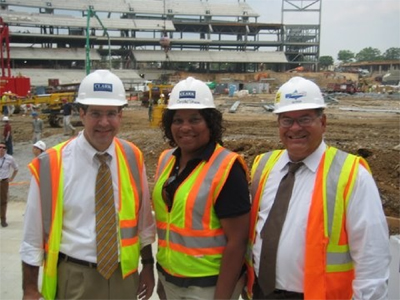 The top Clark execs in charge of the ballpark work—Greg Colevas and Alan Petrasek (who built Petco Stadium for Clark in San Diego)—flank Clark/Hunt/Smoot community relations maven Crystal Stowe. Crystal tells us that while the official opening will be at the first home game, real delivery will be in March—gotta be sure things like refrigeration units and toilets are working!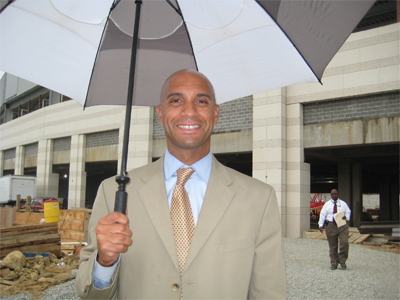 Mayor Fenty makes a perfectly timed entrance replete with a giant umbrella to fend off the impending downpour. Councilman Jack Evans said this represented the first rain delay of the new stadium. But Fenty told us there will never again be rain on a Nats' game day under his administration.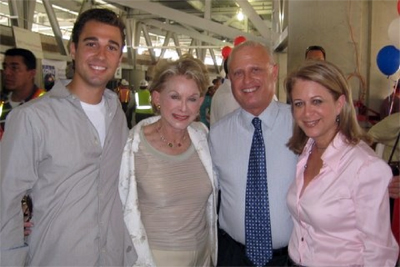 Annette Lerner with grandson Jonathan, son Mark Lerner, and daughter Debra Lerner Cohen.
Above, Nats' president Stan Kasten in front of the Red, Hot, and Blue chow line that featured shredded pork, chicken, potato salad, coleslaw, and great varieties of BBQ sauce. Stan tells us his favorite stadiums, besides Turner Field in Atlanta (which he helped build), include Philly, Pittsburgh, and San Francisco. Why only 41,000 seats here, when a certain Redskins owner always loves to squeeze in more? Stan said it would detract from the greater intimacy of baseball over football that people have come to expect of America's pastime.
And, ladies and gents, introducing:
…Stacey Pfarr, Bisnow's newest addition, who we hope you'll see around with pen in hand covering the events and people of commercial real estate. And what a perk she got: signing a tube steel truss that's going to be part of the largest scoreboard in the Major Leagues –so big, no one could tell us the dimensions. But you won't be able to miss it! Or miss Stacey, for that matter.