AUDREY CRAMER FORECASTS DC TENANT LEASING FOR
SECOND HALF '07
---

In our first installment of Bisnow on Business's mid-year commercial real estate forecast series, our own Doug Anderson sat down with Cushman & Wakefield Vice Chairman Audrey Cramer to get her outlook for tenant leasing in the Downtown market.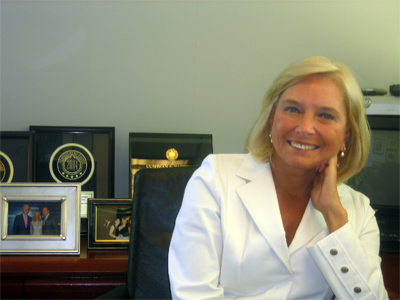 Rising rents have been the story of the year so far in 2007, making it a good year for landlords and a tough year for anyone looking for new space in the prime downtown DC markets, especially in the best buildings.
In the face of rising rents, demand is holding up as DC-based businesses are performing financially better than ever. Law firms continue to have pricing power and increase billing rates while lobbying firms and government affairs offices have doubled in size over the past 5 years.
Also, continued diversification of tenants wanting to be downtown has driven the demand for space as companies like Blackboard and financial services firms are rapidly expanding in the downtown market.
The price of construction materials is also increasing, which drives up demand for sublets as tenants seek ways to avoid major construction. The available sublet space downtown is at its lowest point in over a decade.
Also, a big surprise this year is how well B space has leased and the rents people will pay for it, often in the high $40s.
Tenants are getting creative to avoid total relocations and increasingly looking to expand existing space. Other options include the emerging sub-markets of NoMa and Southeast. Tenants willing to move across the river can expect to save $20 -$30 per SF vs. options in the CBD.
Cramer and associate Max Bruckmann are finding creative ways to serve their clients.
While NoMa has plenty of new space, it is an uncertainty for tenants. Until the amenities are in place, we will have to wait and see what type of tenant makes the move there. The ballpark is an easier sell at this point since the retail base development is more certain with the new stadium and its schedule of games.
Though the booming downtown market is the envy of the rest of the commercial real estate world, keep an eye on the apparent disconnect between building sales prices and market rental rates. We just signed a new lease on space for $55/SF and down the street, an apples-to-apples building is being sold based on $65/SF. How fast can we make up that difference?
Prediction is that DC will see its first three-figure rental rate lease in 2015, which be signed in 2012.

Thank You Subscribers!

Bisnow on Business Real Estate Daily
is now publishing five times a week.

We have doubled the size of our ads
And limited them to 3-5 per issue.

Readership has soared…Climb aboard!

advertising@bisnow.com
tel 202-966-1200