AROUND TOWN!

---
NEWS FLASH: JBG and MacFarlane Partners are launching a joint venture, "JBG Urban," to develop 42 sites in the region (esp. high density "smart growth"), including 92 properties from JBG's portfolio. Capitalized at $2.5 billion, estimated to be worth $10 billion when developed.
---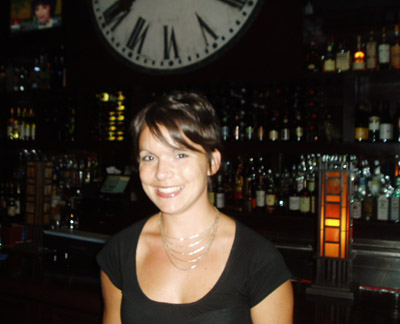 Trying to keep our readers ahead of the curve, last week we explored Columbia Heights (14th and Park Road) and found several great restaurants and a big gourmet Giant, plus plans for Target and Best Buy. We ate at "The Heights" which opened two months ago; above, Manager Rhianna Ortiz, at the spacious bar. Amazing upscale comfort food like Boneless Fried Chicken and Wasabi Crusted Meatloaf…at 1980's prices.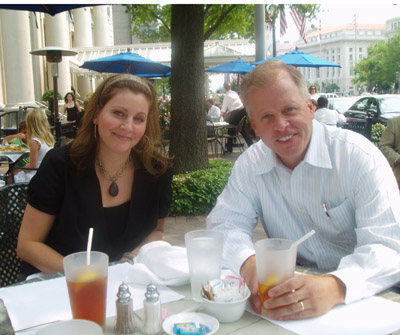 It was just an eating kind of week, isn't that what August is all about? Above, we had lunch at the new Café du Parc outside the Willard with Buch Construction's Carl Buch and Tiphanie Purkat. French onion soup, steak frites, all the joys of home that hotel GM Herve Houdre missed when he arrived from Paris a couple years ago. We learned Carl's firm is putting finishing touches on the new Bloomingdales at Wisconsin Place in Chevy Chase, slated for a grand opening next month.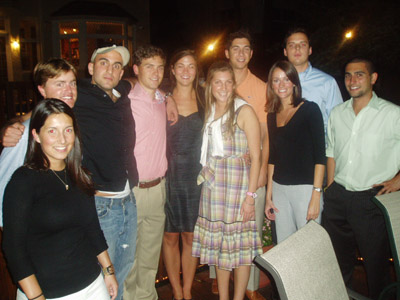 Elliott held a party chez Bisnow for his 20-something crowd. From left, Akridge's Corinne Pignatelli, Tishman Speyer's Brian Cotter, Bisnow's Aram Taghavi, Davis Construction's Patrick Cotter, JM Zell's Meghan Davis, SMG Advisors Sydne Garchik, LPB Energy's Brett Leve, CBRE's Sara Blute, Cushman's Mike Farber, and WorkSpaces' Khalid Itum.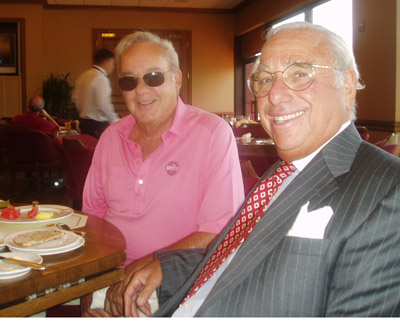 At Woodmont for lunch last week, Tony Cibel, left, owner of the Dancing Crab, Cabanas, Riverside Grill, and his namesake, Tony & Joe's; with Don Sigmund, who sold his Wolf & Cohen insurance group a couple years ago to Alan Meltzer's financial services firm. Don was just back from three weeks in Nantucket; Tony was waiting for a tee time.

At Smokey Glen Farm last week, ABC of Metro Washington held its 3rd annual networking clambake. Does that mean the clams network?! 250 eaters, plus horse shoes and miniature golf and volley ball. From left, Hitt's Kevin Lapanne, DPR Construction's Tom Kurek, and Roche Bros' Tom Wunderlin and Jim Roche.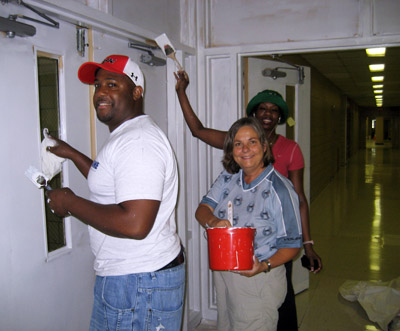 At HD Woodson High School, Kane Construction's Tony Brannon, OPX's Barbara Mullenex and Caryn Bailey did their thing for DC's Buff and Scrub. Note how these experts put primer on before the paint.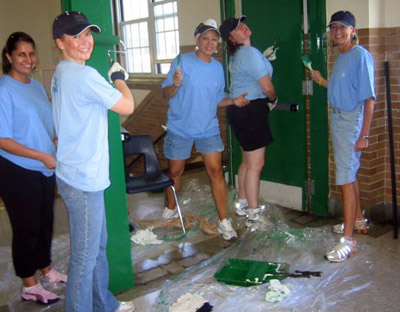 At Francis Junior High School, Pillsbury Winthrop's Soha Mody, FOX
Architects' Kim Vorberger, Pillsbury's Sabrina Hill, FOX's Susan Stine, and Pillsbury managing partner Maureen Dwyer. They painted stairwell doors on the third floor green, in keeping with their admirable environmental proclivities. And how 'bout those stylish baseball caps!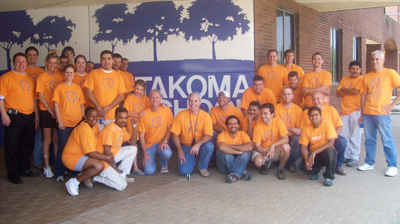 At Takoma Educational Center, reps from Kramer Consulting, Davis Construction, J.E. Richards, C.J. Coakley, Pierce Associates, David Nassif Associates, Flooring Solutions, Inc., Brian Miller Painting and SmithGroup repaired plumbing, patched drywall, and replaced flooring.