ADRIAN WASHINGTON'S BAAAAACK!



---
A big shout-out to great new sponsors Cambridge Property Group and UBS Global Asset Management who announce two downtown properties for lease: 901 E Street (renovated Class A 200k SF, featuring a new lobby and elevators); and 1101 Vermont Ave (40k SF former home of the AMA).
---
We were on hand Monday morning when the sun's rays kicked into high-gear and Adrian Washington came a step closer to bringing the sizzle back to DC's once-hot Petworth neighborhood. The occasion? Groundbreaking for a new mixed-use development at 4100 Georgia Avenue.
You know, the "other" Adrian in DC. Who ran the Anacostia Waterfront Corporation from 2005 until February this year and has now returned to running the Neighborhood Development Company, which he founded in 1999.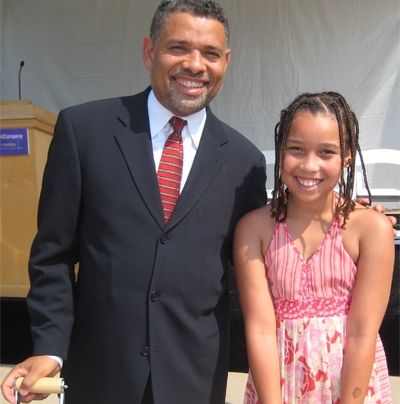 As Mayor Adrian Fenty put it, the "wonderfully named" Adrian Washington with daughter Samantha at groundbreaking this week.
Washington believes that in 2008 when the building delivers, Georgia Avenue will be on its way to beoming DC's true Main Street. We guess we've heard that from others, like Bill Clinton, who famously took a walking tour of George Avenue when he first came to office and promised to restore its glory. But now things are really happening—the booming times in bookends DC and Silver Spring seem to be inspiring a renaissance in between.
How'd he pick the spot? Since NDC's headquarters is across the street (hey, we told you they believe in this neighborhood!), he drove by it every day on his way to work. The seven-story residential building will have 72 moderate income units and a ground floor Yes! Organic Market.
Above left to right, Mayor Fenty gives a shoutout to DCHFA's Tony Waddell, DHDC's Leila Edmonds, Councilman Kwame Brown, and Ward 4 Councilwoman Muriel Bowser. Muriel said people still think she's joking when she talks about one of her campaign platforms: "New York has Fifth Avenue, Paris has the Champs-Élysées, and Ward 4 has Georgia Avenue." But she's serious: She wants to see Georgia Avenue as a world class street.
We should start a Mayor Fenty groundbreaking count—he's in on every one! But in this case, as a former Ward 4 Councilman, he knows the site well. He recalled when the address used to be a huge used car lot—with over 200 cars that were always overflowing onto the adjacent street.
As for Adrian Washington, his NDC is a beehive of activity, with current DC-focused projects like New Plaza in NOMA (37 condos), Lofts at Brightwood (32 condos), Nova Vitalis on Columbia Road (40 condos), and of course the mother of them all, CityVista (441 condos, 244 apartments), where he works with Lowe, CIM, and Bundy Development Co. It looks like the two Adrians will be keeping each other busy.