TED's WORLD!
---
Is there anyone else around Washington remotely like Ted Leonsis? Sure, there are other tech stars, rich people, sports nuts, marketing geniuses, and philanthropists. But all wrapped in one?
Ted has become a veritable community force, poised to be a national one, bringing people and ideas together, as if time is running out. You can get a sense of his frenetic pace of activity in his own words, sometimes filed thrice daily, at Ted's Take. Just this last week, besides getting giddy over the Hoyas winning streak (his alma mater) and talking about such Caps topics as how they might soon be just one of just three teams with three 25 goal scorers and how to get attendance from Baltimore, he ranged to the flattening out of digital music digital rights management, the meaning of "filmanthropy" as he's attempting through his new movie, The Rape of Nanking, and the impending death of newspapers. I'm thinking of billing him for all the time I've lost on the job getting addicted.
But watching a Caps game from the owner's box gives you an even more tangible peek into his world, and I did that a weekend ago, snapping the pix below.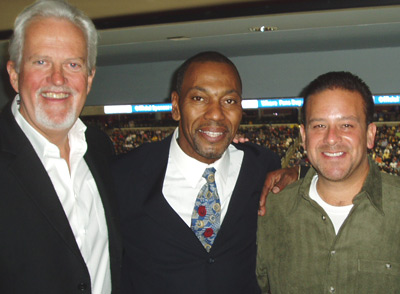 The box has become a crossroads for fascinating people. Some are in Ted's own mold—like the self-made tech philanthropists above, former AOL head of international Jack Davies, left, and Object Video CEO Raul Fernandez, right, both of whom now double as Caps part-owners when they are not busy writing checks to charities. Others, like the guy they are flanking, are public figures Ted regularly invites in to celebrate. This one is Wesley Autrey, a/k/a The Subway hero, the unassuming construction worker who threw himself on the New York subway track last month in front of a five oncoming cars to protect someone who had an epileptic seizure and fell backward. What's Ted's connection? Wesley's brother works at Verizon Center. Ted sent a plane.
Here the sports and financial worlds converge: Capital One founder and CEO Rich Fairbank, right, with Caps President Dick Patrick. But it's not just muckety mucks. Ted allocated some of his best seats to several handicapped kids, and Rich and Dick helped out to make sure they were having a good time.
And none of this even mentions Cal Ripken, who came with his wife and kids. It tells you a lot about Ted that he did not even have a photographer on hand—he genuinely wanted these people to enjoy themselves, not to give him publicity. But I always carry a camera, and will you forgive me if I close with a picture I took of Cal and Ted, with a certain Bisnow publisher's son in between?
Abe Pollin, as generous and foresighted a businessman who ever walked in Washington, managed to find a sports heir worthy of his legacy. Ted is as generous as Abe, but is something even more: an impresario, an entertainer. Strike that, Ted is a Teddy Bear everyone likes to hug—and who hugs back.
What does this issue have to do with tech? People used to wonder if the people who struck it rich in the Washington tech world would ever take their place in the broader community, bring it together, and open their hearts and wallets to the public and the less fortunate. Wow, that question seems like a long time ago.

EVENTS

Feb 22, TCM Leadership Dinner, Governor Calvert House,
Annapolis, 6 – 9 PM. For C-Level execs, networking and special guest speaker. More info.
March 15, NVTC's Titans Breakfast with Homeland Security Secretary Michael Chertoff, McLean Hilton, 7 – 9:15 AM.
More info.

For advertising information, please contact
advertising, or call (202) 966-1200