SCHMOOZE FOR
PHILANTHROPY
---
Don't snooze, schmoooze! That's our motto here at Bisnow on Business, and even better if you can do your eating and networking for a good cause. Wednesday night, 130 entrepreneurs gathered at Greenberg Traurig's offices in Tysons to say hi again to legendary Mario Morino, founder of what became software giant Legent, and his philanthropic business partner Jack Davies, founder of AOL International. Not many in the region have been as successful as they have, and even fewer have plied their winnings and back into the community and re-directed their lives essentially to good works.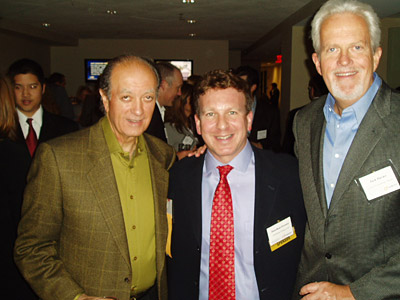 Morino and Davies flank GT's Northern Virginia Co-Managing Partner Jon Forster, who hosted the event in his firm's offices. Mario told guests that philanthropy follows wealth creation, and that just as the region saw dramatic economic growth in the 90s, so too is it poised today for a major philanthropic movement. He announced he's raising a second fund for Venture Philanthropy Partners and appealed to the newly successful to find the time to help others.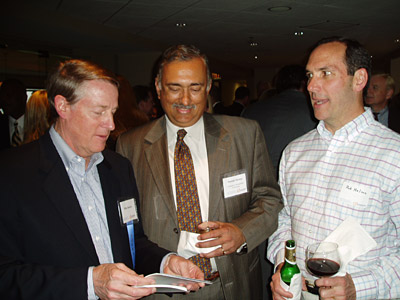 Also on hand, former Network Solutions Chairman Mike Daniels shows IMC's Suresh Shenoy and Trade Harbor's Bob Nelson pictures of his trek earlier this month to 17,000 foot high Everest Base Camp. (Question to our friend Bob: Are you drinking beer or wine?)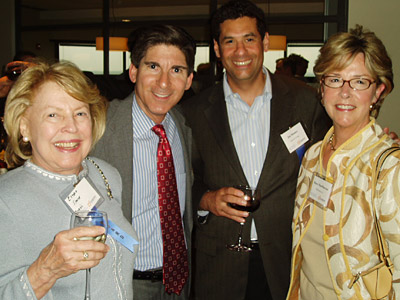 From left, PR gurus Esther Smith and Mitch Arnowitz, Ernst & Young tech practice leader Jon Shames, and former Netpreneur head Mary MacPherson. Mary, who ran about 50 of the famous coffee and "doughnets" functions for aspiring Internet tycoons from 1998 to 2003, just returned two weeks ago from the Middle East, where she is helping to build a cross-regional business women's network.
From left, Garda Global's Nicole Watson, Greenberg Traurig's Maria Hallas, IMC's Maureen McCauley, Bullis School's Liberty Okulski, and IMC's Heather Wren. IMC tells us they're doing more and more legal outsourcing and e-discovery services from India, which they say represents a nascent multi-billion dollar industry.

EVENTS
April 30, NVTC golf tournament to benefit the Equal Footing Foundation, Belle Haven Country Club, 1 PM shotgun start, more info.
May 16, TCM Financial Execs Forum Networking Breakfast with SEC Commissioner Annette Nazareth, Bethesda Country Club, 730-930 AM, more info.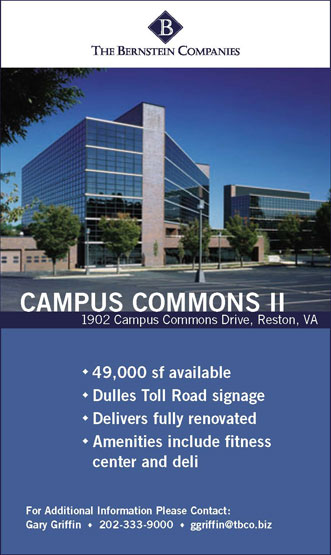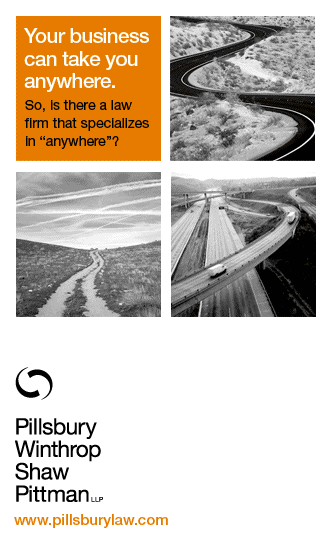 Readership has soared…Climb aboard!

Thank You Subscribers!

Help deliver the remarkable stories of the region's most successful tech firms to the whole business commmunity.

For advertising information, please contact advertising@bisnow.com or tel. 202-966-1200