ONCE AROUND
THE TOWER CLUB
---
That center of the tech scene, or at least the food scene, seems to be back in full stride for spring. We thought we'd wander around and see what really goes on there.
Separated at birth. What is it about these guys that looks so similar? Ah, they are all wearing blue jackets. And it turns out they all have that Opening Week glow from their love of baseball. Ernst & Young jack-of-all-portfolios Marc Andersen, left, himself once a renowned Little League third baseman, has just started coaching his son's coach-pitch team in Great Falls; Grant Thornton Mid-Atlantic Managing Partner Rich LaFleur was center fielder and team captain at Langley High School; and (shh, don't tell anyone) Fairfax County Economic Development president Jerry Gordon attended Yankees fantasy camp in 2001, and got a double off National League triple crown winner Dwight Gooden!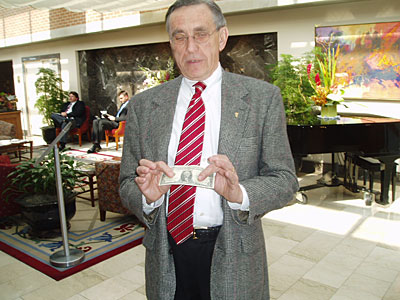 Neal Grunstra, founder of MindBank of Reston, starting learning card tricks to entertain his small kids, but when they reached 13 they weren't fooled anymore. But having invested in parapheranalia from Al's Magic Shop, he is forced to ply his trade on unsuspecting publishers, here showing us how he can destroy then bring back to life a seemingly ordinary dollar bill. Neal has also done some magic with his company: although known around here as a staffing firm, over the last seven years he's built a 90-person division in Denver, which designs and implements "land mobile radio" capability around the country, such as recently for all the Native American tribes in South Dakota, the Seminole tribe in the state of Florida, and Customs and Border Patrol in parts of Arizona. Might there be a pattern here of warm weather work in the winter? No, he told us, as he returned this week from the LMR conference in Las Vegas.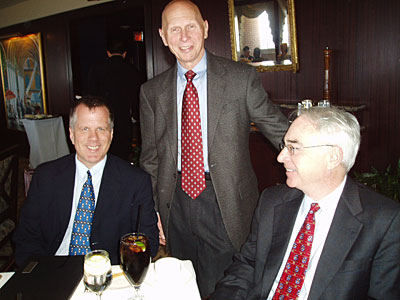 Looking ever so distinguished, like they're modeling for the pages of an annual report, George Mason School of Management dean Rich Klimoski, standing, an, colleague Dan Mackeben, left, are actually quizzing Venable senior partner Bill Walsh about his recent trip to the ACC basketball tourney in Tampa.

EVENTS
April 5, TCM's MdBio – BioBootlegger happy hour for bio firms and federal and academic labs, Ellicott City, 530-730 PM, more info.
April 18, NVTC Presidential Breakfast Series with Mitt Romney, 630-845 AM, McLean Hilton, more info.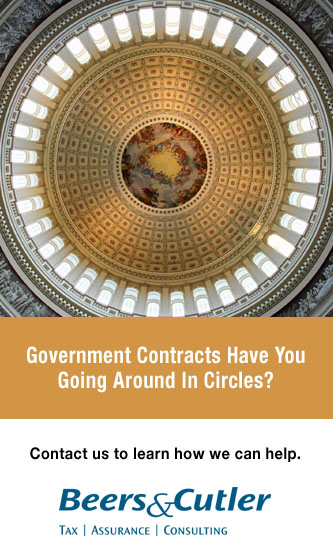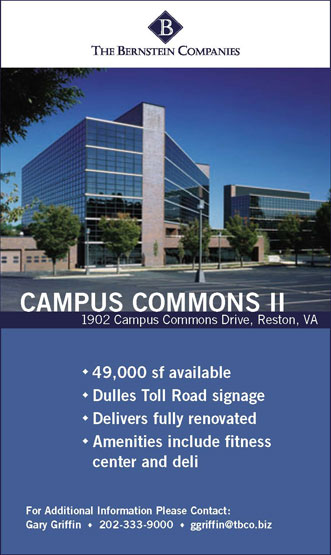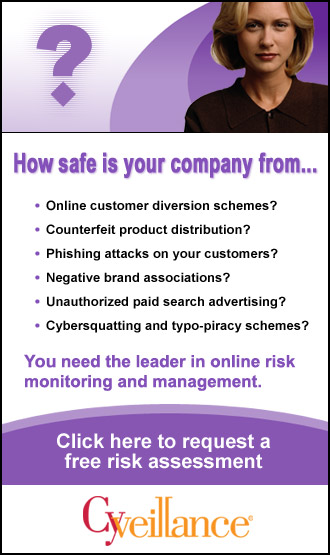 For advertising information, please contact
advertising, or call (202) 966-1200