McCain and Tech Mavens Mingle
---
Remember the glory days when the tech crowd expected Senators to come out to the Toll Road to see them? Or when tech and politics barely mixed? Not anymore. A few days ago, at the invitation of poli-tech impresario Bobbie Kilberg in her personal capacity, 59 members of the NoVa tech elite trooped to DC to lunch with GOP presidential front runner John McCain. Bobbie's husband, Bill Kilberg of Gibson Dunn & Crutcher, provided a conference room, McCain spent an hour, and it was that rarest of political species: a conversation, not a fund raiser—in fact, you didn't even have to be a supporter. The main topics? Immigration and Iraq. A few of our pix: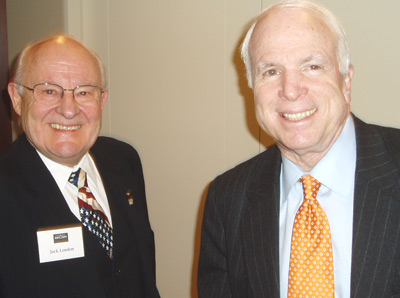 Look Alike Contest? The Senator, right, with CACI CEO Jack London.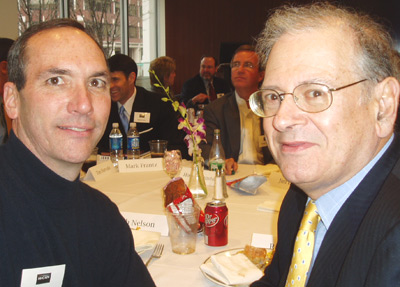 The Two Bobs. Maybe the reason that the two people in this picture have the same first name is that they're sort of related: Bob Kahn, right, is (with Vint Cerf) "Father of the Internet," and Bob Nelson, serial entrepreneur, is a Child of the Internet. Nelson, biz dev guru of startup Trade Harbor, is busy enrolling big banks and others into their ambitious plan to authenticate the voices of zillions of customers via Internet and phone. In background, other relatives: Sugar Daddies of the Internet, vcs Mark Frantz of Red Shift Ventures and Hooks Johnston of Valhalla. Three Bobs if you count the picture taker, Bisnow on Business, "BoB." Ha, ha.


Barbershop Quartet. Also on hand are, on bass in the back, GW Executive Vice President Don Lehman and Panacea CEO Gary Pan, with Stacy and Mike Mendler seated. Mike's a Corporate VP at SAIC and Stacy's COO of Alion Science and Technology.
Smiles of the Year. Flashing their teeth after a joint visit to the dentist are Consumer Electronics Association president Gary Shapiro and former Dyncorp CEO Paul Lombardi. Nah, they were leaving the McCain event but just had a lot to smile about. Gary, of course, is fresh off the usual CES blowout in Las Vegas—except that thing just keeps getting bigger. Meanwhile, Paul, bundled up for the Washington cold, was headed to Florida with old buddies for some golf. Last month, Perot Systems purchased Frank Islam's QSS, which Paul advised, doubling Perot's government unit; it was important enough that both Ross Perot Sr. and Jr. came to a party for it at the Marriott conference center in Rockville. And Pearson Government Solutions, whose CEO Mac Curtis Paul also advises, also got sold a month ago to Veritas. Plus, Paul's on the board of NCI, on the proxy board of CGI-AMS, and an investor in other outfits ranging from Waterford Catering to a medical supply company. Come to think of it, where does he find time to golf?



EVENTS

Feb 22, TCM Leadership Dinner, Governor Calvert House,
Annapolis, 6-9 PM. For C-Level execs, networking and special guest speaker. More info.