MARYLAND'S
BIG NIGHT
---
A shoutout to our sponsor Cyveillance, which this week announced that of about 66 million live websites, 11 million pose some kind of security risk to visitors. Scary! More info. It's also just announced the appointment of Terry Gudaitis, formerly of SAIC, as its Cyber Intelligence Director.
---
Over 900 Type A networkers crowded into the Bethesda North Conference Center last night for the 19th annual Tech Council of Maryland annual dinner. It was a record number and there would have been more but for the fire marshal.
Big winners. Executive of the Year: John Peeler of Germantown's JDSU Communications; High Tech Firm of the Year: Rockville's CNSI; Biotech of the Year: Osiris Therapeutics of Baltimore; Government Contractor of the Year: Hunt Valley's AAI Corp; Service Provider of the Year: Arent Fox law firm.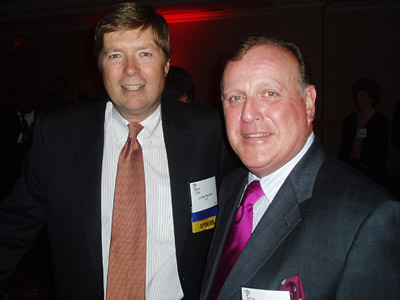 IBM public sector consulting head John Nyland, left, was looking a little more relaxed last night—finishing up his three year tour as Chairman of the Tech Council. With him, Northrop Grumman IT prez Jim O'Neill, just back from London where he golfed at Ernie Els' famed club, Wentworth. Even better, this week GSA selected Northrop (as part of an EDS team) to create a biometrics card for 420,000 federal employees.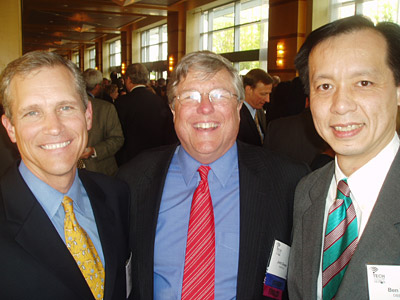 ITAA President (and former Commerce Under Secretary) Phil Bond; John Dwyer of Arent Fox; and Ben Wu, Assistant Secretary of Maryland's Department of Business and Economic Development. Dwyer and Arent Fox were recognized by TCM for winning approval by the Maryland legislature of $25 million to encourage stem cell research.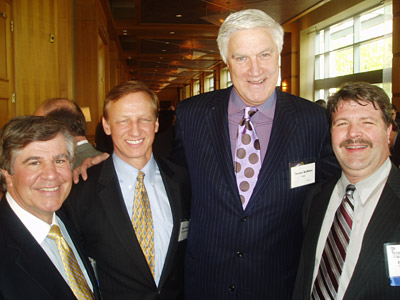 Pillsbury Winthrop's Steve Meltzer, Livingston Group's Steve Kreseski (former chief of staff to Gov. Ehrlich), Fortress America CEO Tom McMillan, and Total Site Solution's Eric Maxfield. Yes, of course, Tom used to play basketball—for the Knicks, Hawks, and Bullets.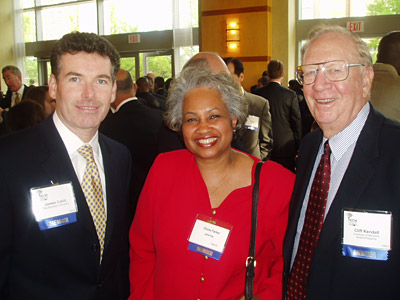 Staubach's Jim Cahill, Apptis' Biz Dev SVP Gloria Parker, and University of Maryland Board of Regents Chairman Cliff Kendall.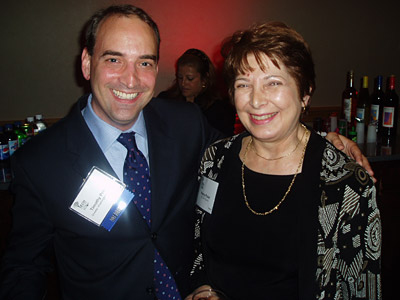 Greater Washington Initiative Executive Director Tim Priest with DC Tech Council president Penny Pickett. Tim tells us their just released human capital study shows Washington as the number 1 center of knowledge workers in America; Penny reminds us the roast of former Tech Council Chair John Sanders at the Capital Hilton is May 23. Factoid: she says when John first came to DC, parking cost $1.50 downtown, that's how long ago it was!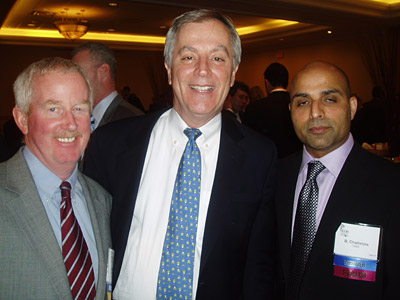 Hoyt Connell of Lockton (world's largest privately held insurance broker, based in Kansas City), M&T Bank Washington area president Peter Black, and B. Chatterjee, president of 850-employee systems integrator CNSI of Rockville that won high tech firm of year honors.

EVENTS
May 16, TCM Financial Execs Forum Networking Breakfast with SEC Commissioner Annette Nazareth, Bethesda Country Club, 730-930 AM, more info.