"I only go to meetings if they make me"
SUCCEEDING AS A WOMAN IN FEDERAL IT
An interview with Jeanne LeFevre, SVP and General Manager, Federal Solutions Group, Dynamics Research Corporation (DRC)
By Mary Westbrook for Bisnow on Business
---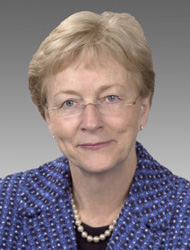 Jeanne LeFevre

Jeanne LeFevre oversees 400 employees who bring in $70 million annually for DRC, a technology management services firm that does mainly government work. Recently her biggest challenge was trying to bring in NASA as a client, and that's taken a lot of creative and strategic thinking. It's not exactly where she planned to be 10 years ago, but that's OK by her.
"There was no great plan; I wanted a mid-sized company," she says, explaining an about-face from her previous life at Unisys. "In 1995, I filed income taxes in five states. I have worked all over the world, but I was ready for a long-term assignment."
LeFevre helped grow revenue 34 percent in two years while at Perot Systems and, before that from $10 million to $30 million in a three-year-period at Soza & Company (now a part of Perot). The Long Island native spent most of her career at Unisys, working on projects for the Johnson Space Center, USDA and the US Postal Service. She joined DRC, a $300 million company, two years ago.
Did you always know you'd manage multi-million-dollar contracts one day?
No. I went to a private women's college, and it was all about how much Latin and French you could read and a lot of math and science. I got married, had kids and then decided to re-enter the workforce in 1980. I was fortunate to have a technical background at a time when computer science was becoming big. All that math that had seemed impractical was suddenly a valuable asset.
Was it hard to be a woman among so many men?
The technology industry can be a convoluted arena to work in, especially for women. However, the obstacles I faced were more personality-related. I can easily intimidate, not meaning to, but that tendency also put me where I am today. Men with the same personality would have the same barriers.
How do you divide your day?
Most of my time is spent discussing strategies and tactics. I'm usually in small groups of two or three people, talking about how we should approach a certain market or proposal; how to reward somebody; how to handle potential conflicts. In most instances, it's a balance of mind and intuition.
So you manage by consensus?
No. Once I've heard all the input, someone needs to say, 'OK, let's go left here.' I only go to meetings if they make me, and I don't require written reports. I have faith in my team and at the end of the day, our work is a means to an end – to help with the greater success of the company and our employees.
Why don't you like written reports?
Why make someone spend an hour on a report when I can pick up the phone and we can have a conversation?
Do you mentor anyone?
A male and a female on management tracks. I talk to him about business development, how you look at the world and put together people. I do that with her, too, but she has another issue – over-committing. You can't succeed being superwoman. With her, I work on balance – not putting yourself in the center of too many forces and ultimately wearing yourself down. It's important to maintain balance.
Do you ever feel that pressure to be superwoman?
For me, it's not an issue. If you ask the people around me, they would say it is. I'm wired with really high energy. Twelve-hour days? No problem. It's not surprising to find me working on my garden after a long day at work.
What about when you were younger?
I have a supportive husband who is balanced in a different way – far from 12-hour workdays. I would take the kids to the office on Saturday if I needed to, but I never missed a soccer game and they were on every soccer team, every baseball team. And, they have full lives and interesting careers now. I also had jobs where the hours were flexible.
In 10 years, where will you be?
I have a lot of friends who have chosen retirement and almost all of them appear to be not very happy. I want to stay active in this community, to continue contributing. My role might be different, but I will still feel like I am doing my part.
How do you relax?
I water ski. I bike. I love to work in the garden. I will eventually get back into watercolor painting, something I used to do quite often. We love to spend weekends with the grandkids and take them to cities they have never seen. This opens their eyes, and mine, to different experiences the world has to offer. But when it comes down to it, a glass of wine and a salad at 9 p.m. on a Sunday is a perfect day for me.

EVENTS

March 15, NVTC's Titans Breakfast with Homeland Security Secretary Michael Chertoff, McLean Hilton, 7 - 9:15 AM.
More info.
March 29, TCM's Working with the Federal Government and Large Integrators, Johns Hopkins Shady Grove Campus, 730AM - noon. More info.