DC ASSERTS PLACE IN REGION'S TECH SCENE
---

The panelists and vcs weren't necessarily from DC, but the venue was the Capital Hilton, the host was the DC Tech Council, and the luncheon speaker, symbolically, represented the city's largest and sexiest start up (John Pleasants, CEO of Steve Case's Revolution Health). The 8th Annual Early Stage Capital Forum was intended to showcase DC's role and potential in tech.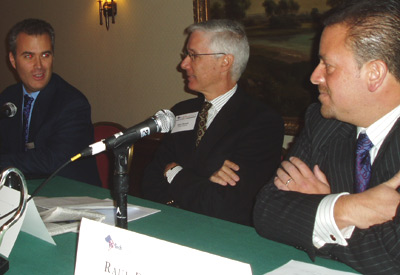 The morning was panel-ville. Mark Ein (the guy you've been reading non-stop about in the Post the last few days, Net-Jetting to Sundance and buying Kastle Systems) said the one he moderated was the best he's ever seen on any subject at any conference! The subject was Second Acts in business and featured luminaries, from left, Jeff Zients, Alan Spoon, and Raul Fernandez. Not to be picky, they weren't sure themselves what Act they're on. Jeff chaired David Bradley's Advisory Board companies and then auditioned to Major League Baseball to head the unsuccessful Fred Malek ownership group. Alan was an officer at Boston Consulting Group, president of the Post, and is now a money man at Boston's Polaris Ventures. And Raul Fernandez, assuming you don't count his semi-internship with Jack Kemp on Capitol Hill, founded Proxicom (sold in 2001 for $450 mil), took a couple years off to invest and acquaint himself with his family, and is now hard-charging again at Reston's Object Video.

Issues discussed? What motivates you after you've made a lot of money—intellectual stimulation, helping others around you get rich? Should you align yourself with investors like Raul did with General Atlantic; should you take a break (Alan has gone from one thing to another with no more than a week in between). And, of course, is love better the second time around, or is it harder because you've raised your own bar so high as to what's defined as success.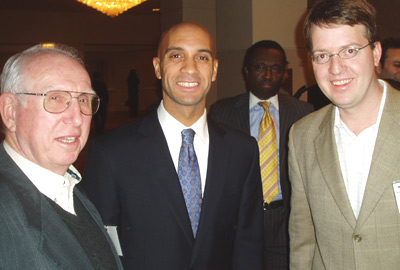 In a brief speech (hey, what's wrong with that?), new DC honcho Adrian Fenty (pictured above with former DC Tech Chair John Sanders and Potomac Tech Wire founder Paul Sherman) said if anyone understands entrepreneurship it's he: this is a guy who created a mayoral campaign from scratch. And the man of two BlackBerries said he wants to bring a lot more technology to government, both to manage and to interact with constituents.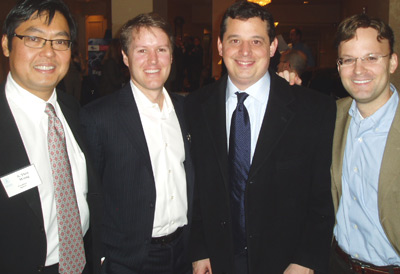 Slice of life. Investor Tien Wong (left) with Bisnow on Business COO Doug Anderson (second from right) flanked by Enhanced Capital's Tom Davidson and Mark Slusar. Wait a minute, rewind that sentence…Bisnow COO??? Yep, in his mere second day on the job, Doug was already taking in the tech sights. Anderson joins us from BNA, where he was head of strategy. BNA, for the unwashed among you, is the largest Washington-based publisher of specialized business and legal information. Well, at least at the moment.



EVENTS

NVTC Titans breakfast with Northrop Grumman IT
president Jim O'Neill, Jan 31st
Hilton McLean. More Info.
TCM Government Contracting Academy, Feb 9th
Tech Council offices, Rockville. More Info.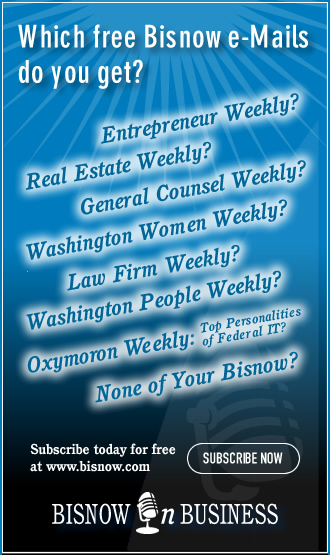 For advertising information, please contact
advertising, or call (202) 966-1200