BREAKING BREAD
WITH CHERTOFF
---
That Michael Chertoff sure draws a crowd--650 at the NVTC's Titans breakfast yesterday. You'd think the Secretary of Homeland Security could award contracts on the spot. He did point to CIO Scott Charbo in the corner, so maybe deals got done.
His message: "What we have that the other side doesn't is technology and ingenuity" and "an ability to harness the free enterprise system." He enumerated steps he's taken in his two years on the job to keep out dangerous people and cargo, harden infrastructure, strengthen emergency response, and enhance integration of operations and the authority of the CIO.
But we decided to find out what else people were thinking about:
Former Network Solutions and Mobile365 Chairman Mike Daniels is excited about an upcoming three week trek to base camp in Nepal. He's trekked in Africa, Patagonia, and everywhere else, so he evidently knows what he's getting into.
Cybertrust CEO John Becker with Valhalla v.c. Hooks Johnston. Never mind all his firm's deals for managed security services; John's smiling because he's almost finished with construction on his beach house in Dewey.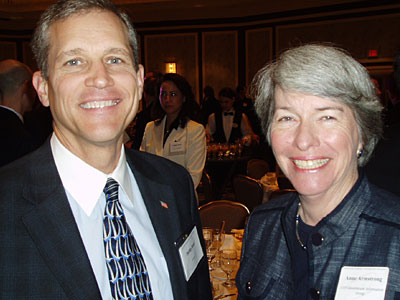 ITAA President Phil Bond, here with FCW publisher Anne Armstrong,could use that beach house. Bond, the former Under Secretary of Commerce who succeeded Harris Miller at ITAA six months ago, just came back from a New Orleans meeting of the Council of Regional IT Associations where his hotel room faced Bourbon Street. He had a great time but things are in full swing again down there and he says the noise didn't die down until 3 AM each night.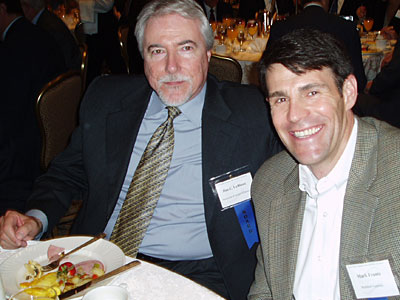 American-Kuwaiti Alliance's Jim LeBlanc and v.c. Mark Frantz. Frantz, late of Carlyle and In-Q-Tel, now co-owns Red Shift (the old Space Vest) and does a lot of Series A deals these days. But that's nothing: Jim's getting married in a couple months.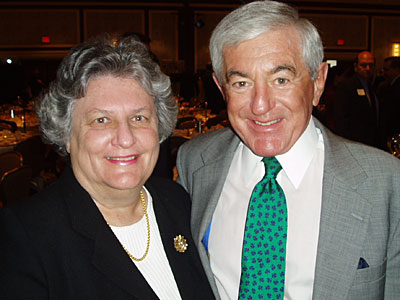 NVTC president Bobbie Kilberg with XML/XBR honcho Tim McNamar. Tim was Deputy Secretary of the Treasury (yes, the #2 guy) in Reagan's first term, so he knows something about the law. He asked me to use the vast power of the Bisnow media empire to broadcast the following message: There is no federal law that prohibites DoT from funding a Tysons tunnel. He says White House counsel Fred Fielding should tell the Transportation Department to wake up and read the law.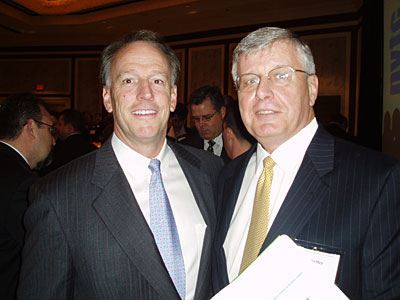 NVTC Chairman John Lee may have known Bobbie Kilberg a long time, but EDS federal head Jim Duffy, right, can claim to have known her street since 7th grade when it was on his route as a paperboy.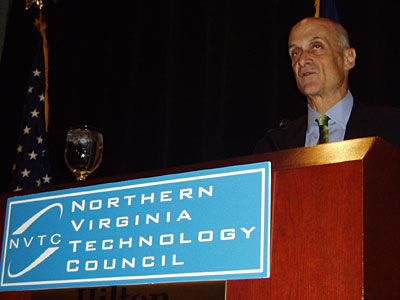 Here's the thing about Chertoff. He is brilliant, but where does he find the time to to his job? It looks like he runs about about 200 miles a day.