4 M's: MedImmune,
Mario, Michael (Dell),
and Murias!
---
Dollars and Dinners. Two years ago, MedImmune CEO David Mott won the Tech Council of Maryland President's Award for the fact his company exceeded $1 billion in sales. Must have been good karma: Yesterday, MedImmune enthusiastically agreed to a sale to AstraZeneca for $15.6 billion, more than a 50% stock run up in the last two weeks. TCM Prez Julie Coons tells us it's a huge vote of confidence in I-270's biotech community. Plus, MedImmune founder Wayne Hockmeyer was a TCM founder—a great advertisement for the usefulness of its events.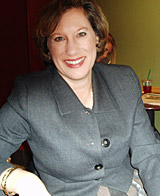 Julie Coons

And whadya' know, the TCM Annual Dinner is next week, May 2, at the Bethesda North Marriott. Looks like another sell out, maybe a record 900. It's Julie's third and will be the last presided over by local IBM chief John Nyland as he completes his three year tenure as chairman. It's billed as "Maryland's best night of networking," and they mean it: Gov. O'Malley and County Exec Ike Leggett will be there, and every diner gets a table map of exactly who's sitting where so you can schmooze your heart out. More info.
Mario Returns. Speaking of networking, legendary Mario Morino, symbol of Northern Virginia's tech awakening in the 90s and now a national leader in venture philanthropy, comes to Tysons tomorrow evening for a Bisnow on Business Schmoozarama, co-hosted by the NVTC, to bring together the region's top entrepreneurs and celebrate Mario's renowned vision and generosity. He'll say a couple words, but mainly it will be pure old fashioned socializing—oh, so 20th Century.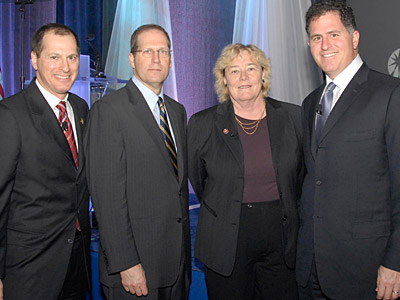 Hi, I'm Michael Dell. More than 450 tekkies trekked to the Reagan Center for the Consumer Electronics Association's annual Digital Patriots Dinner hosted by CEA President Gary Shapiro (above left) and honoring New Hampshire Senator John Sununu, California Rep. Zoe Lofgren, and computer king Michael Dell. Dell told the crowd he took apart his first computer at age 15 and feels he can tell his dad his company's made a "good start."
Sports Intermission. Okay, this was not precisely a tech event, but PwC mid-Atlantic head Fernando Murias, as ubiquitous a figure as we have on the tech scene, chaired the recent NFL Players Gala at the Washington Hilton, where 1250 attendees came to support DC Special Olympics—oh, and see some of their favorite footballers. Here sports nut Fernando stands his tallest between New Orleans Saints' linebacker Scott Fujita, left, and Cleveland Browns' tight end Darnell Dinkins.

For advertising information, please contact
advertising, or call (202) 966-1200