WHAT'S UP AT
ZUCKERMAN SPAEDER?
---
Quick Questions for Graeme Bush,
Chairman, Zuckerman Spaeder.
---
How many attorneys are you?
120 total, of which 80 are in DC.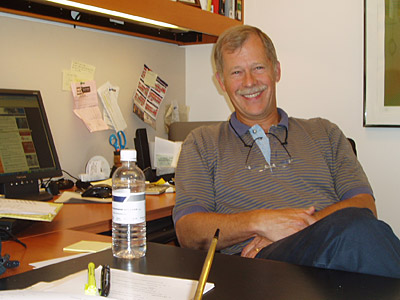 Where are the rest?
Miami, which is our second biggest office, plus Tampa, Baltimore, Wilmington, and New York.
Why Florida?
We started a Miami office 20 years ago because Roger Zuckerman met John Evans on a case in Miami. Roger thought John was a great lawyer and said, "Why don't you join us?"
What's the rationale now for the six different offices?
We think we have the greatest scope and reach on the East Coast for a specialty litigation firm. Also, having lawyers in other cities allows us price flexibility. The rates are probably about 15-20% lower for work in some of those other geographic areas.
Bush keeps his Nats hat at the door since he has season tickets, but his real passion is tennis. Since he's half Australian, this may be why he looks like John Newcombe.
What is the firm's specialty?
"Bet-the farm" litigation, including complex business litigation, enforcement proceedings, investigations, white collar defense.
Examples?
We represent the CFOs of both Fannie Mae and Freddie Mac in all their investigations, from OFHEO and the Hill to Justice and the SEC. My partner, Steve Salky, has great experience in the accounting issues faced by regulated entities like Freddie and Fannie. We've represented David Colburn of AOL, the former head of EES at Enron, and the Milberg Weiss plaintiff firm which is under indictment in L.A. I personally represent a very successful portfolio manager and a high producing broker involved in SEC cases coming out of the mutual fund timing investigations.
So you represent mainly individuals?
Yes, although not always. Companies tend to have ongoing relationships with large firms, and we are referred to highly placed individuals by company counsel.
But the individuals can pay their bills?
They tend to be indemnified by the company, or insured, or already have personal wealth.
Where are you from?
My mother was Australian. She and my father met in Sydney during World War II. After the War, she came back with my father back to L.A. I was born at Walter Reed, and continued my early years as an Army brat, living in Kentucky, Boston, Izmir, Turkey, and around here when he was at the Pentagon.
Do you speak Turkish?
I can still count up to 40 in Turkish and say hello and goodbye. I was 10 when I lived there.
How did you get interested in litigation?
I knocked around after Wesleyan a couple years, then went to law school in Maryland because I was living there. I went to Caplin & Drysdale in 1977 and stayed for 21 years.
I thought that was a tax firm.
I was the first person hired with a promise not to have to open the Internal Revenue Code. I was interested in securities fraud and derivative litigation, which they were starting to do as a result of tax shelter cases. I started in '77 and stayed 21 years.
You joined Zuckerman in 1999. Why?
Bill Taylor here is a good friend. I came with Carl Kravitz and we thought a litigation environment would be better for our practice.
When did you become chair?
2001.
How did an outsider get that position after two years?
It was the right time for a non-founder. The founders are still very active but wanted to distribute leadership.
When did they found it?
There's actually a debate about that. Zuckerman says it was when he came out of the US Attorney's office. Spaeder and Taylor claim it was when they joined the firm. So there's several competing claims. That's a good thing. It allows us to have multiple 30th anniversary parties.
The firm likes parties?
Of course. We just had one a couple weeks ago at Decatur House celebrating the next generation of our lawyers. The guests couldn't figure out who was in which generation.
What's your growth plan?
Make sure this firm stays one of the best in the country in the specialty litigation niche.
You play tennis.
Three to four times in a good week. I played in high school in Philly and a bit in college.
You have a wooden racket and brace still?
Yes, but only for the special Kenwood "woodies" tournament.