THE SECOND BIGGEST
NY FIRM IN DC
---
A shoutout to our newest sponsor JBG, one of the top developers of the region, and their new Silverton Condominiums, 210 luxury units in the heart of revitalized Silver Spring ready for immediate delivery. The building blends snazzy amenities (see ad to right) with the quaint old character of a former Canada Dry factory that was on the site, retaining its brick façade and sign.
---
Skadden is #1 in DC among New York firms—over 300 attorneys here. Quick, what's #2?
Weighing in at 150 attorneys, and growing about 10 a year: White & Case.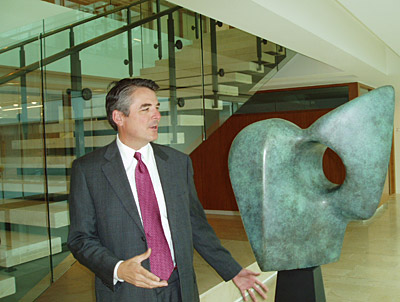 You'll find it on the top floor and a half above Macy's on 13th Street. Of course they have a separate office entrance with a nice street level plaque, and when you get up there, you see a sleek modern space, nothing that would suggest an old line NY firm, even though they've been around since 1901. Here Managing Partner Vic DeSantis shows us a symbolically contemporary bronze art piece displayed in the lobby, sculpted by Williams & Connolly litigator Paul Wolff. (Isn't that neighborly to display the competition?)
The irony of the booming White & Case presence here is that the firm started out as quintessentially Wall Street: co-founders J. DuPratt White (age 31) and George Case (28) were so financially oriented they also incorporated Bankers Trust (later merged into Deutsche Bank, still a big W&C client).
And today, as it's branched out, its major calling card is its international nature: over 2000 lawyers in 23 countries around the world in 35 offices, only five of which are in the US (DC, NY, LA, Palo Alto, and Miami). Not surprisingly, their global partners retreat this year was in Prague, clearly not just a vacation since it was in January.They see only the biggest British firms (or those that have agglomerated with them such as DLA and Clifford Chance) as comparing in geographic scope.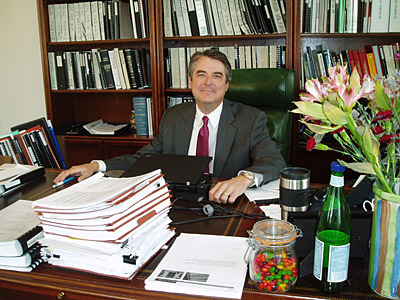 But DC has become a lynchpin of its strategy, providing a US regulatory and litigation component of an effort to offer global clients "seemless" service, just as it has 300 attorneys in London at the ready for European-based needs. DeSantis, who's own practice is international project finance, says the DC office's forte is "disputes": From international arbitrations to corporate defense to anti-trust and a variety of other areas of litigation.
And they are aggressively heavying up in this area. In late '06, they plucked two top energy lawyers from Dewey, Donna Attanasio and Earle O'Donnell; and at the beginning of '06, Mike Quigley from Akin Gump, with his tax controversy practice.
Of course, they're known for other practices and people, such as Abby Cohen Smutny in international arbitration, Mark Gidley in antitrust, Sam Alberts in bankruptcy, and litigator Chris Curran. Not to mention two lawyers named for 2006 among the 100 most influential in America by National Law Journal: international arbitrator Carolyn Lamm and former Deputy Attorney General George Terwilliger, a white collar specialist.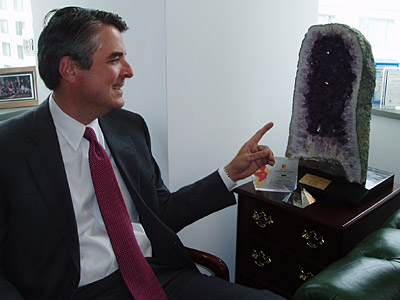 Here Vic points to a geode of amethyst he was presented for work in the Philippines representing a developer in an OPIC financed project. It's a sophisticated practice, but he was put in his place a few years ago when he asked one of his two boys, then age 5, if he might like to be a lawyer like his father—and his mother (a Kirkland & Ellis litigation partner) and grandfather (a Jones Day litigation partner)—someday.
"No, I want to do something more challenging," his son replied to the three of them.

SPONSORED LINKS:
Join Wachovia and Cardéa Commercial for a weekly 1031 Exchange & Tenants In Common (TIC) educational Webinar. Click here for details.