Wiley Rein

Fred Fielding's Departure Means New Name… and Water Bottles
"We'll leave the long-term future up to people in their 40s," Wiley says
---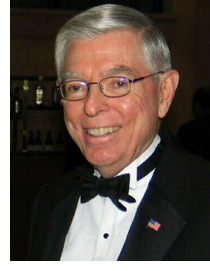 It's back to the future at Wiley Rein. In 1986, a three year old firm of that name brought in Ronald Reagan's just departed White House Counsel, Fred Fielding, and added his name to its marquis. Now he's going back to the White House as George W's Counsel, and they're subtracting his name.
"It's kind of like 20 year locusts," Managing Partner Dick Wiley laughs.
But did they really have to change the name? "I don't think we had a choice under the DC Bar's Code of Ethics," Wiley tells us. "You could argue one way or the other technically, but we wanted to make it clean and have no question as to the separation."
Maybe they were happy to tell the world their partner has become a big government cheese again? "You have no idea the stationery and signage hassles. We even had to get rid of the labels on our water bottles," Wiley counters. "Not to mention we prefer having him in the practice serving clients." Fielding gave them a few days notice, and Wiley strongly recommended the change to the seven member administrative committee, which promptly agreed.
Why not go with fashion and use just one name, like Venable or Skadden? "Bert Rein and I have been partners from the beginning, and we're both still active," says the 72-year old Wiley, who says he has no plans to step down until he is infirm. "We just had as good a year as ever in communications," pointing out that the 80 lawyers in that practice area were heavily involved in two mergers, both AT&T with BellSouth, and one involving Comcast, Adelphia, and Time Warner.
Wiley and Rein had been at Kirkland & Ellis in 1983, and brought half of its office, 37 attorneys, to the new firm after Kirkland's Chicago office took on a new client with a conflict that would have impaired Wiley's ability to practice telecom law. Fielding joined three years later, instead of going back to Morgan Lewis. Today they're 260 attorneys but are such a boutique they have offices only in DC and McLean. Besides communications, their next strongest practices are government contracts, insurance, international trade, and IP (crowned by a huge contingency fee success against BlackBerry).
Rein, a former Harlan clerk, has been a litigator and FDA expert. Wiley went from Peoria to Northwestern for undergraduate and law school, then came to DC the first time in the JAG Corps in 1959. He moved back to Chicago, where he headed the Young Lawyers section of the ABA, but worked for Nixon's election in '68 and dreamed of returning. He was an antitrust lawyer and aimed to be GC of the FTC, but instead White House personnel had a vacancy at the FCC working for Goldwater's ex-campaign manager Dean Burch. "Let's see, that's something with communications?" Wiley asked.
He started with the FCC in 1970, and a year later replaced departing commissioner Bob Wells, then became chairman in '74, with three months remaining before Nixon resigned. He served through Ford and then stayed on for a year in the Carter administration when jobs weren't so partisan. Afterwards he went to Kirkland and headed their Washington office for five years.
Could losing one of the three key partners set a re-evaluation in motion of the firm's future? In this era of merger mania, aren't they being pursued? "Of course we've had overtures," Wiley says. "We have not chosen to go that path. We like our collegial culture. Everybody knows each other. We're in the same building we've always been in. But we'll leave the long-term future up to people in their 40's."
Whatever, he's having a great time. He's got an Emmy in his office for nine years he spent pro bono developing HDTV standards that are now changing the world of television. He's aiming to keep diversifying and growing the firm's core practices. He's playing tennis three or four times a week at the Washington Golf and Country Club, even though he was a college baseball player. "It's hard to find 17 other baseball players when you reach your 30s," he explains. His six grandchildren are all boys, and he's encouraging them not in law but in sports.

Readership has soared… Climb aboard!

Thank You Subscribers!

Help deliver the remarkable stories of the region's most successful law firms to the whole business commmunity.

For advertising information, please contact advertising@bisnow.com or tel. 202-966-1200