WOMBLE SOUGHT
EHRLICH TO SYMBOLIZE
REGIONAL EXPANSION
---
A shoutout to our sponsor, the American Bar Association's Real Estate Symposium April 26-27 of this month at the Fairmont—top speakers on the hottest topics in real estate, plus CLE and practical courses for young lawyers, too. Vice chair of the ABA real estate section is Ballard Spahr's Roger Winston. See ad to right, or click here.
---
Some will assume former Md.Governor Bob Ehrlich was sentimentally attracted to practice at Womble Carlyle because: 1) he went to Wake Forest Law School and feels an attachment to North Carolina (Womble was established 130 years ago in Winston-Salem, which remains its head office), or 2) the firm already has another former governor on staff (four-termer Jim Hunt of said state).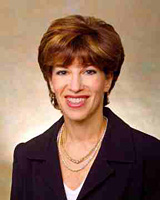 Pam Rothenberg

But DC Managing Partner Pam Rothenberg tells Bisnow on Business that the real fit was that Womble is aggressively beefing up its regional presence and Ehrlich saw the opportunity to create a Baltimore office from scratch with a firm eager to innovate and play in the big leagues.
He joined in February, bringing with him six staff members, only a couple of them attorneys but all veterans of political strategy and crisis communications. Plus, his former personal attorney, David Hamilton of Ober/Kaler (where Ehrlich had practiced before running for Congress in the mid-90s), became the Baltimore office's managing member.
Womble has 11 offices now and more than 550 attorneys firm-wide. Rothenberg's DC office illustrates its growth trajectory. DC was opened nine years ago, and has 45 attorneys, but eight were added in just the last nine months, including Tim McClain, former GC of the Veteran's Administration, and top Federal Elections Commission lawyers Larry Norton and Jim Kahl. Still seven more are in the active pipeline. A NoVa office was opened more than six years ago, a Wilmington office less than a year ago, and the firm had set its sites on creating a presence in Maryland—to capture fast growing life science, real estate, and government contracts opportunities, among other priorities.
Does that mean Ehrlich is slated to be Mr. Maryland? Just the contrary, Rothenberg tells us. She says that as a notable GOP governor of a Blue state, Ehrlich gained a national reputation and "is more in the Giuliani mold," being able to "open doors and help get us into signature clients and relationships in his network of supporters."
He's also a glamorous presence at local events. Rothenberg says he came down just a couple weeks ago for a client appreciation reception at their McPherson Square office, and that DC office personnel are in close touch with him and often work out of his Maryland office.
Given that neither rich venture capitalist Mark Warner nor non-lawyer Tony Williams were likely to join a law firm, Womble seems the big winner in the sweepstakes for any members of the region's recent governing triumvirate.
Rothenberg says Ehrlich was introduced to the firm through government relations specialist Jimmy Broughton, and that attorney Mark Poovey and firm managing partner Keith Vaughan spent time in Annapolis pursuing the deal. Hunt and Ehrlich bonded as well, different political parties though they are.
Rothenberg writes prolifically on highly specialized legal subjects, telling us she often does so "to make myself understand new things." Most recently she has been reading and writing about "enhanced use leasing" where agencies like the VA convert real estate holdings to higher and better uses. At a retreat she convened for the DC office on Saturday at the McLean Hilton, she talked about Womble's regional growth strategies, which include targeting life sciences, commercial real estate, and communications industries.
The daughter of a professor of medicine, Rothenberg was raised on Long Island, and now with her architect husband is raising three "strong women," she laughs: daughters aged 13, 10, and 2. The last is a Guatemalan child they adopted, who may not be the last kid in their intended large family. Rothenberg does not seem to lack for energy, which seems well suited to both family and Womble growth plans.