NO NO'S FOR
OUTSIDE COUNSEL
---
By Sue Bevine, for Bisnow on Business
Haven't been called lately by your favorite inside counsel? A panel of GCs put together by the Washington Metro Area Corporate Counsel Association Thursday evening shed light on what might just be the problem.
Topping a Top 10 List of sins: poor communication. (Yep, ironic for people who love to talk.) On the one hand, not telling the client bad news, like you've lost a motion. At the other extreme: giving them too much information, when what they really want is not to hear from you until the problem is fixed, yet you pepper them with incessant status reports and detail.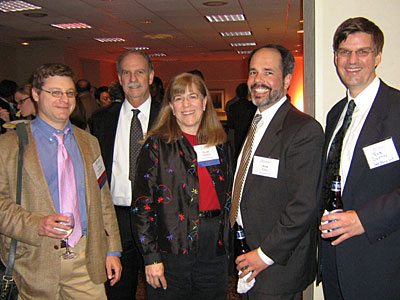 The two worlds meet (we didn't say collide). XM Satellite Radio GC Joe Titlebaum (second from left) and Carey Limousine GC Diane Ennist with Saul Ewing's Howard Slavit, Robert Gill, and Rob Dustin.
In short, know your client's tastes and moods. Seems obvious, but TV One GC Karen Wishart told the story of how an outside lawyer who came in to help her negotiate with entertainment talent fell flat because he wore coat, tie, and wingtips. When she pointed out how that didn't fit the atmosphere, the next time he came in wearing jeans and a casual shirt—but it was for a starched shirt board meeting.
Other biggies on the list: Not calling back promptly, not knowing the lingo, giving inconsistent advice, overstaffing, billing for time bringing associates up to speed of stuff they should know, not getting the okay before contacting the client's business people, not knowing the format for bills or giving enough detail on what they're for, underestimating what needs to be done and by when, and not staying on budget, up or down.
Even coming in under budget shows poor planning, panelists said, and puts inside counsel on the hot seat with management because money wasn't spent elsewhere. But a worse infraction is not alerting the client if the budget is about to be busted. "When an estimate is greatly exceeded, it's not just a matter of the in-house counsel being upset," said DynCorp GC Curtis Schehr. "That GC has to turn around and brief the CEO or the CFO on the variance." Not likely to endear you. Best to provide regular forecasts of where things are going, panelists agreed. And to follow the motto "No surprises," said Arnold & Porter's Sarah Kahn.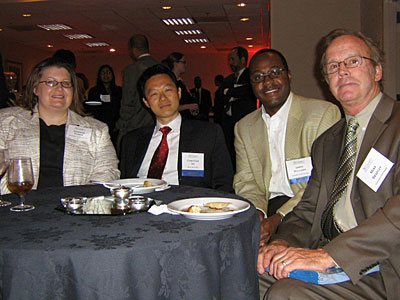 From left, Bracewell & Guiliani's Jennifer Rinker, Mitel GC Christian Na, Liquidity Services GC James Williams and Guidance Software's Mike Bradley.
At the reception afterwards, conversation continued about a special category of things so blatant it's hard to believe they have to be warned against. Like suggesting or excusing unethical behavior on the theory that "no one will notice." Or charging a client for paper towels to clean up the pizza stains on their desks because your staff was working overtime. No joke, this really happened.

SPONSORED LINKS:
Join Wachovia and Cardéa Commercial for a weekly 1031 Exchange & Tenants In Common (TIC) educational Webinar. Click here for details.