HOW A REAL ESTATE BOUTIQUE KEEPS GOING STRONG
---
Other firms are gobbling or getting gobbled, but 55-attorney Bethesda firm Linowes and Blocher—storied in the local real estate field for half a century—seems to be intent on remaining lean and independent, and for the last five years has managed year over year revenue increases. Clients read like a Who's Who in the field: Chevy Chase Bank, Chevy Chase Land Company, Bernstein, Penrose, LCOR, Boston Properties, JPI, Pulte, Monument, Toll Brothers.
One reason for their success: Having shuttered their DC office a decade ago, they've become the go-to experts in Maryland—especially in zoning, where knowing local rules and corridors is key.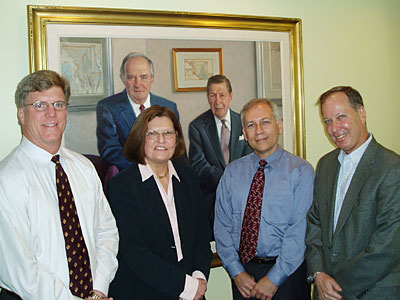 Blending in with portrait of founders Joe Blocher and Bob Linowes are, from left, land use attorney Bob Dalrymple, former managing Barbara Sears, current managing partner Andy Goldstein, and managing partner-elect Rich Zeidman.
While they used to be known for traditional suburban developement, such as residential subdivisions and strip shopping centers, a trend toward "re-urbanization" has showered them with recent work: representing Foulger Pratt, Petersen, and Argo Investments in the re-development of downtown Silver Spring; Federal Realty Investment Trust in building Rockville Town Center; and now also assisting Foulger-Pratt on re-doing the University of Maryland East Campus, and Stonebridge and PN Hoffman on Lot 31 right outside their offices.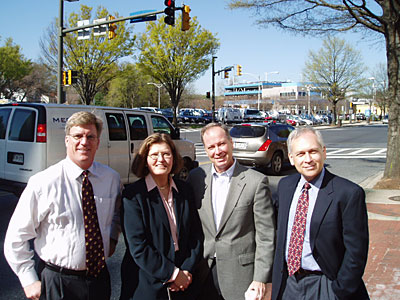 Standing across from the parking lot at Bethesda and Woodmont Avenues, they tell us of big plans for recreating it as mixed use retail, residential, and office, plus 1400 underground parking spaces. Woodmont will actually have to be moved in the process. This is the stuff of their practice: utility relocations, entitlements, coordinating public and private.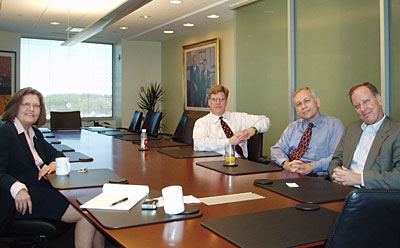 Here are the Fab Four again, pondering the future.
They say they might open a DC office if they can find the right people—but it's difficult to match those Piper and Hogan salaries. They would be interested in expanding their venture, corporate, tax, and litigation practices. It's a dilemma: Being a boutique gives them a brand, but then they can't capture all the opportunities.
And, when they're not pondering the future? Rich Zeidman co-owns the historic "John Lewis" country store in Cambridge on the eastern shore; Bob, a onetime Little League shortstop and pitcher himself, now coaches his four kids; and Andy's claim to fame is that he still regularly gets together with the same 15 guys from Queens PS 187 that he's known since they were all five years old. Barbara is a proud workaholic.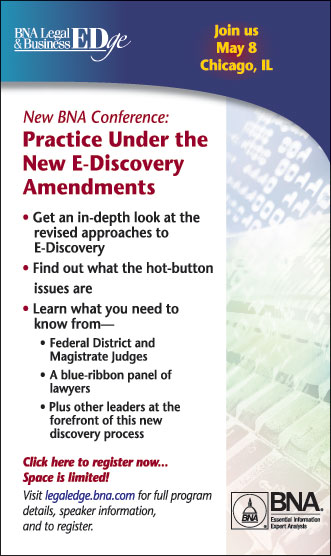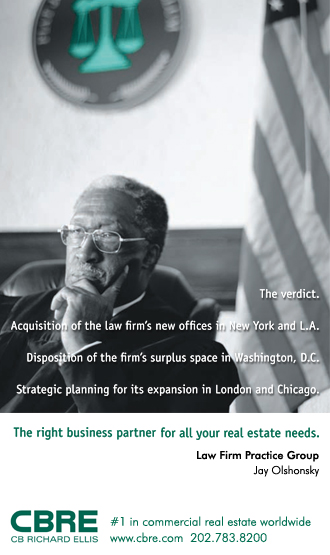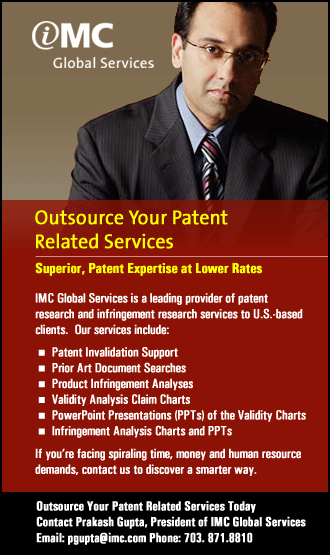 For advertising information, please contact advertising, or call (202) 966-1200