Aliens Become
A-List
Miami Firm Makes Itself at Home
---
When Greenberg Traurig opened its Tysons office a decade ago looking for tech business, it worried that prospects might give it the cold shoulder. After all, it wasn't a home grown firm, or even a Silicon Valley firm, but a Miami carpetbagger, for heaven's sake. What would surfers from the Sunbelt know about telecom or Internet?
Jon Forster

Evidently a lot. Last year, 26 local corporate transactions here—venture deals, acquisitions, offerings, exits—were taken to GT to get done. Among them, the sale of Columbia-based Broadwing to L3 for $1.4 billion. And acquisitions ranging from Online Resources buying Princeton eCom for $118 million to Comstock's small twin purchases of Parker Chandler Homes and Capital Homes. This doesn't even count a flurry of deals at the end of '05, like the IPO of high profile Vocus.

Out of 60 attorneys in the Northern Virginia office (with an equal number of staff), the 14 of the corporate group are spearheading much of this work, and three of the most instrumental were recruited just last year from Mintz Levin. Before 2006, GT's biggest practice areas in NoVa had been immigration, and government contracts and export controls.

Tysons Office Co-Managing Shareholder Jon Forster says there was quite a struggle for business at the beginning that had a silver lining. "We couldn't get the top tech talent, which went to Cooley and Wilson Sonsini, so we staffed up with general legal specialties like tax instead of narrower industry talent." The result? "We didn't initially get the work we wanted but we created a much more diversified practice that endured, whereas other firms started closing their boutique offices." And now, he says, they are pretty nicely entrenched in the 'burbs where so much of the commercial business of Washington gets done.

Jon himself is an example of the phenomenon, having arrived at GT as a tax lawyer in 2000. "They were trying to build 30 cities and create a national platform, decided Tysons would fit, and found people like me who were tax lawyers or my colleague Laura Reiff, who did immigration. Now the office boasts government contracts, M&A, real estate, and several other areas in this office." They also have a DC presence of 80 lawyers and 1600 attorneys and governmental affairs professionals firm-wide.

Their latest hot practice area, which Forster himself has been leading, is wealth management. As clients mint new money through their corporate transactions, their personal bank accounts need attention. Forster himself got named by Worth Magazine last year as one of the top 100 lawyers in the field.

He says one of the firm's secrets is being entrepreneurial. In Tysons, Jon and Craig Etter share responsibilities as office heads. But five months ago they also hired a non-lawyer, retired Marine Tony Hatchett, as business director, and a recruiting coordinator. Tony oversees marketing, human resources, and administration.
"Miami gives us very broad financial parameters and doesn't come down and dictate. It really helps our bottom line," Jon says. Their office, next to the Ritz and above the Palm, is spilling over from the 11th and 12th floors, and now includes a number of national research and library staff as well who could work anywhere but like being in the Tysons location. At heart the GT folks are definitely becoming local yokels, and they like it that way.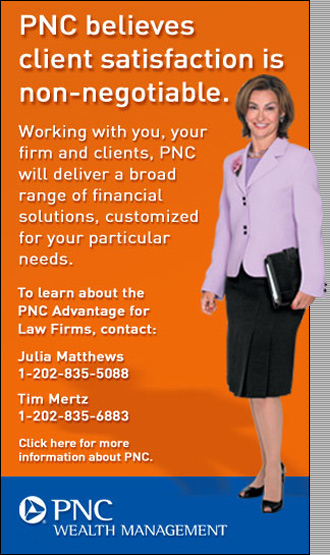 For advertising information, please contact
advertising, or call (202) 966-1200