Big Company Gets
First General Counsel
---
Quick Questions for Andy Pace
VP and General Counsel, Akridge
---
Akridge is one of the city's leading developers, but you're its first GC?
Yes. First full-time, in-house in its 33 years.
Why now?
We have so much going on, someone needs to marshal the process. We were facing a choice of either having a lot of legal work handled by business people, which takes them away from their primary focus, or having it done at rates that are in excess of what's necessary for a consultative function.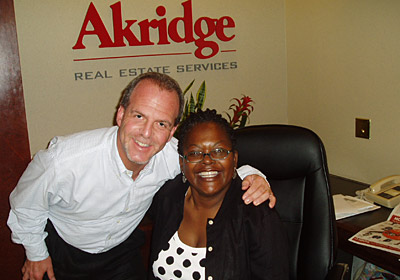 Andy, here with Akridge receptionist Teri Merl, likes being part of a real company.
How'd they find you?
More like how did I find them. I'd been in private practice 20 years and wanted to do something entrepreneurial. I had breakfast with a lawyer friend who knew Akridge had been thinking on and off about getting an in-house. That led to discussions with our president, Matt Klein, late last year, then three subsequent meetings, and I started March 19.
Are you finding employees were too casual about calling outside counsel?
Not really. People here are extremely sharp. They know that picking up the phone for a single project with a small budget can be a material cost. Having said that, it's natural that people form relationships with attorneys and go to them as needed. It's a matter of striking the proper balance.
Will you be the gatekeeper to outside counsel?
I've tried not to insert myself so aggressively that it would be disruptive or threatening. Ideally, down the road, the goal is to have people come to me and say, "Here's what I have as a legal need." And then my choice will be either do it myself because I have the time and expertise, or find the right person.
And he gets to work not just for Akridge, but in an Akridge building.
Will there be a centralized legal budget now?
No. There will still be a project oriented one, where legal costs are baked into each budget. That's because projects are done through funds and joint venture partners and banks and lenders, so you separately allocate legal costs.
Are you getting involved in non-real estate legal issues?
Yes. To me the number one function of any GC is risk management, so the more different pieces of the company I can touch, the easier for me to help avert risk.
What outside counsel do you use?
Arnold & Porter, Goulston, Holland & Knight, Pillsbury, Arent Fox, Greenstein DeLorme for real estate. We try to use a broad range of counsel and not concentrate things too much. I'm still inventorying who others are, especially in the non-real estate area.
Where are you from and why did you come here?
Jericho, Long Island, via Penn State. I came to Georgetown for law school because I felt that if I went to school in New York I'd never see anything outside of there.
After Georgetown?
I graduated in '86 and went to Willkie Farr in New York through '88, then here to Dunnells, Duvall, Bennett & Porter, largely doing tax structuring of joint ventures in real estate, then morphing into more corporate type work. A number of us went over to Arnold and Porter in '93, and I stayed there until 2004 when I left to pursue other entrepreneurial interests.
What do you do outside Akridge?
I am immersed in soccer. I've coached my three daughters, ages 10, 15, and 17, who have all played, and we've made a practice field at our house. Sundays I play in the Montgomery County men's league. There's no minimum age limit, so I find myself playing against kids young enough to be my son. They enjoy letting me know that I'm a lot older.