DLA Piper
LITERALLY ON THE MOVE

---
[As we go to press, we note the untimely passing March 17 of US co-Managing Partner Jeff Liss, 55, of pancreatic cancer. Liss, who started with Piper & Marbury in 1985, helped lead much of the expansion of DLA described below.]
A law firm as big as DLA Piper deserves to make a grand entrance–and that's exactly what it's doing.
On the weekend of October 1, its 170 attorneys will be moving out of their old 19th street abode to 8th and E.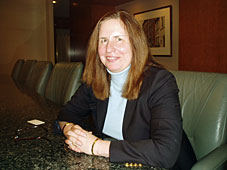 Ann Ford

And it comes with its own entrance at 500 8th Street. "It will be our real office–a flagship for DLA," DC Managing Partner Ann Ford, right, told us the other day in her conference room.
Now the world's third largest firm (after Clifford Chance and Baker & McKenzie), DLA is the amalgam of Baltimore's old Piper Marbury, DC's Verner Liipfert, California's Gray Cary, Chicago's Rudnick & Wolfe, and London's behemoth DLA. (Who knew that British firms were so big?) 3200 employees, 24 countries, and 63 cities. Every continent but Antarctica.
"We're an office of laterals," Ford says.
She was on the move committee looking for 200k SF and led by DLA's own hotshot real estate attorney, Jay Epstein. They started looking nearly 3 years ago, used Jones Lang as broker, and Debra Lehman-Smith for interior design. They thought they were running out of space in their old building (which they've occupied since 1980, starting with Piper & Marbury) because Kelley Drye took up much of it, but ironically that firm merged with Collier Shannon and has since moved to Georgetown Harbour.
Just as well; they want jazzy new stuff. "The move is a physical embodiment of our merger," Ford, above, told us. It will have a conference center on the ground floor, a café and terrace overlooking the Portrait Gallery, and an atrium that can be used for events, such as when the firm brings in election analyst Charlie Cook for its politically oriented clients, or puts on something for government contractors. Had it been ready, it might have been used to entertain theatergoers for the movie "Breach," where actor Ryan Phillippe plays the part of then FBI agent Eric O'Neill who is now a DLA associate.
Ford has taken a hands-on role with floor plans, putting the litigation and patent group in the same area, for example, because as an IP attorney herself she sees the potential of the practices cross-selling–and she wanted to rectify the customary sense of IP attorneys that they are placed, as she put it, "in Siberia." And she's added war rooms and libraries, and ensured enough expansion space (which will be subleased for the time being) to accommodate up to 300 attorneys.
Jack-of-all-businesses George Mitchell (until recently moonlighting as Chairman of Disney and any number of public policy study groups) is DLA's chairman. There's a triumverate of CEOs representing legacy firms and including one of Baltimore's own, Frank Burch. Ford herself is on the 30-member policy committee and spends half her time doing administrative.

The firm is known for its lobbying, regulatory practice, real estate, IP, and transactional practices. Ford says the five year plan calls for expansion of international trade work, patent litigation, and just generally a significant expansion in both DC and New York. Now they have the space.

Readership has soared… Climb aboard!

Thank You Subscribers!

Help deliver the remarkable stories of the region's most successful law firms to the whole business commmunity.

For advertising information, please contact advertising@bisnow.com or tel. 202-966-1200