A Texan Who's Learning to Ice Skate
ANGELA'S NEW STYLE:
COUNSELOR FOR NERVOUS COMPANIES

An interview with Angela Styles, former Administrator, Office of Procurement Policy; Partner, Miller & Chevalier
---
Whether a likely new era of Democratic investigations of government contracts will be good for Congress, companies, or country, it will certainly be a boon for Washington law firms. And Angela Styles who spent the first Bush term as its head of procurement policy has now placed herself in an influential role.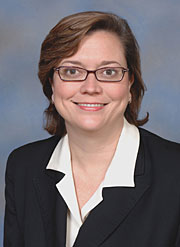 Angela Styles

Returning to the 110 lawyer Miller & Chavalier where she was a government contracts attorney before going to OMB after the 2000 election, she tells us she's now spending up to 20% of her time counseling clients fairly quaking at the prospect of being hauled up to the Hill to account for their contracting deeds. She'll also be poised to handle related Agency IG or Department of Justice investigations that may rear their heads if others take their cue from the mood in Congress. It's an attractive adjunct practice for a firm that is known largely for tax but which is finding growth in government contracts and litigation.
"Since Congress has changed hands, you see a lot of nervous companies out there," Styles says. "I help them figure out how to approach or not approach the Congress."
For example, new House Oversight and Government Reform Committee Chairman Henry Waxman, the dependable Democratic critic of the Bush administration who pointedly added the "oversight" to the name of the committee, has long published a list of "problematic" contractors and contracts. He alleges that fraud or mismanagement may be involved in hundreds of situations, often in connection with Katrina, Iraq, Afghanistan, or sole source acquisitions from Alaskan native, Indian tribe, and 8(a) vendors. When Waxman was ranking committee member in the minority, it was an interesting list, but now it represents a fertile database for official and very serious hearings.
"Several clients have come to us about being on the list," Styles says. "They want to know if they should go to the committee and tell them why their contract is not a problem." Her advice? "Of course not," she counsels. "I tell them: 'You don't seem to be a priority, no one has subpoenaed you, there has been no press about you, we don't know who they will target first.' I try to give them perspective."
She also suggests preemptive measures such as compliance review and ethics training, so companies can say they did what they could.
Meanwhile, Styles busies herself on more conventional cases as well, assisting on Armed Services Board of Contract Appeals cases, bid protests, GAO reviews, management of GSA schedules, and even acting as in-house counsel for some firms. Although she represents a big company like Lockheed, she says "what I really enjoy are the smaller, newer firms involved in things like nano technology, or just doing commercial work for clients Advance Micro Devices." And of course she specializes in "non-traditional solutions," meaning lobbying among other things: talking through issues with career civil servants and political appointees instead of going to court to sue.
Since she's been out of office three years she can get involved in procurements involving OMB (a one year bar) and in which her staff was involved (a two year bar), but she honors the lifetime prohibition on specific cases where she was personally involved. She better be careful: her successor was, notoriously, a onetime law colleague of lobbyist Jack Abramoff named David Safavian, sentenced in October to 18 months in prison for lying to the U.S. Senate and the GSA.
Styles, born and raised in Dallas, is a 7th generation Texan, and the first one to have kids outside the state. She's now lived 20 years in DC, taking advantage of the cold weather to learn figure skating—and vowing to become competent by the time she turns 40 in May.

Readership has soared… Climb aboard!

Thank You Subscribers!

Help deliver the remarkable stories of the region's most successful law firms to the whole business commmunity.

For advertising information, please contact advertising@bisnow.com or tel. 202-966-1200