PARTY-TIME AT AKIN GUMP
---
Akin Gump boasts that it's the only firm with former RNC and DNC party chairmen on the masthead, sharing clients and tall political tales. Perhaps the White House didn't know that during his RNC-chairman days, Ken Mehlman, 41, newly an Akin Gump partner, often called former Ambassador and DNC chair, Bob Strauss, 88, for guidance.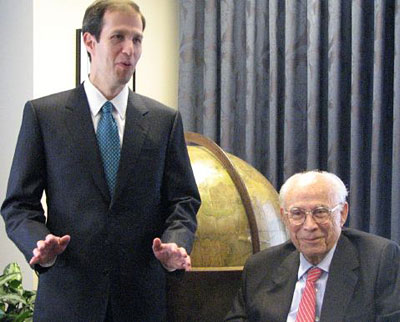 With Bob in the latter's office yesterday, pictured above, Ken told us he's happy after eight years as a loyal Bushie to be back—Ken was an associate at: "The Gump" straight out of Harvard Law. Reflecting the current DC balance of power, a bemused Bob says of the RNC-DNC combo, "It's only appropriate for Ken to be here, working for me."
The globe notwithstanding, Ken insists the world is flat and he's focused on helping domestic and international companies navigate the roiling waters where public policy and business collide. 20 years ago, Bob said global biz issues were about 5% of the Gump's business; today, he and Ken estimate they're over 50%.
And around the globe is where Ken is focusing his time, on some "sensitive" transactions. He's on the speaker circuit, too, and aspires to become almost as wise a man as Bob. What's the difference between Ken-as-associate and Ken-as-partner? The ever-quippy Bob says, "We recognize his limitations much more, now."

Readership has soared… Climb aboard!

Thank You Subscribers!

Help deliver the remarkable stories of the region's most successful law firms to the whole business commmunity.

For advertising information, please contact advertising@bisnow.com or tel. 202-966-1200